Embassies owing £42m in Congestion Charge fines claim diplomatic immunity
| Sept. 20, 2010 |
London, England
Published by Evening Standard //pdf1//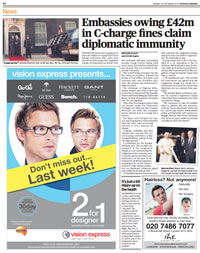 Photo: Girish Gupta
Girish Gupta and Miranda Bryant

Transport bosses are chasing more than £42 million in unpaid fines from foreign embassies who claim they should not have to pay the congestion charge, the Standard can reveal.

Over 100 embassies still have outstanding penalty charge notices dating back seven years, but insist they should not pay because they are covered by diplomatic immunity.

The United States embassy tops the list owing £4.2million, followed by Russia at £3.6million and Japan and Germany who owe £3million each since the scheme was introduced in February 2003.

The embassies of Nigeria, India, Sudan, Poland and Ghana each owe more than £1million with the Spanish, French and Greek falling just below this figure. In total, 145 separate embassies owe TfL varying fines.

They claim the charge is a tax so they are exempt under the Diplomatic Privileges Act 1964 and the Consular Relations Act 1968. But transport bosses said the levy is a charge for a service.

The Mayor and Transport for London said negotiations with embassies have led some who previously refused to start paying the charge.

Uruguay, Columbia and New Zealand each owe just £60. But non-paying embassies today remained defiant, saying TfL has "no legal ground".

A spokesman for the Russian embassy said: "We consider the payment of the congestion charge as a tax contravening the obligation of the receiving state to permit and protect free communication on the part of the mission for all official purposes, as provided for in the Clause 1 Article 27 of the Vienna Convention on Diplomatic Relations signed and ratified by Britain in 1964."

US President Barack Obama has publicly criticised the congestion charge, saying he does not think it "appropriate" for embassies to pay.

During a state visit to the UK he travelled in a car belonging to the US embassy which refuses to pay the fee. Last week Boris Johnson promised to exempt the Popemobile from the congestion charge during the Papal state visit to London.

A TfL spokesman said: "TfL and the UK Government are agreed that the congestion charge is a charge for a service and not a tax which means that diplomats are not exempt from payment.

"TfL and the Mayor continue to pursue all unpaid congestion charge related fees from embassies who have not paid the charge.

"TfL continues to take all possible steps to address the non payment, however due to diplomatic immunity we cannot take further enforcement action and therefore will continue to engage directly with those embassies that refuse to pay in order to increase compliance with the scheme."