Celebrity endorsements and mudslinging in race for Manchester marginal
| Apr. 26, 2010 |
Published by Student Direct: Mancunion //pdf1//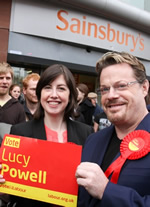 Photo: Girish Gupta
Labour turned up the heat on their election bid for Manchester Withington last week, as comedian Eddie Izzard joined their candidate Lucy Powell in campaigning outside Sainbury's in Fallowfield. The student-heavy constituency is one of the most marginal seats in the UK and Labour have made it clear they intend to win it back from Lib Dem incumbent John Leech.



Izzard stood on a soapbox outside the supermarket to give a talk to a handful of local Labour supporters, a few shoppers and the gathered press.



"I believe that what we try and do in the Labour party is be fair," said the comedian speaking to Student Direct: Mancunion. "That's what we always try and do. That's why I support the Labour Party."



Labour's Keith Bradley lost the Withington seat in 2005 after 18 years in power. Leech won with a majority of 767, taking just over 40 per cent of the votes, the Conservatives took less than a tenth. However, Powell and Izzard seemed keen to attack the Tory Party, rather than the much stronger competition from the Liberal Democrats.



"I don't believe the Tory party is about fairness," said Izzard. "I think it's more about money, and tax breaks and people who are doing well doing even better. I want everyone to have a fair chance."



When it was suggested to the comedian and the parliamentary hopeful that it was not the Conservatives that they should be focusing their attack on but the Liberal Democrats, Izzard insisted: "It'll get the Tories in. If you vote Lib Dem, you won't get the Labour party. You'll have the Tories coming in so I don't believe it is the right vote."



Yet John Leech disputed the comedian's assertions. "In Manchester Withington, vote Lib Dem, get Lib Dem," he said. "I think first of all we have to say that Labour are just telling lies. It's politically dishonest to suggest that it's a straight fight between Labour and Conservatives. They're trying to deceive people. It's politically dishonest.


"Everybody knows that Withington is a straight fight between Labour and the Liberal Democrats. There is no risk for students of somehow putting the Conservatives in power by voting Liberal Democrat in Withington."



Speaking to Powell later in the week, Student Direct: Mancunion was told: "It's unfortunate that John Leech has to make such personal attacks against me," she said. "It's absolutely clear that this election is a choice between a Labour government and a Conservative one. At the end of the day we're going to end up with either David Cameron or Gordon Brown walking into 10 Downing Street.
"That's an entirely straightforward position and not a dishonest one at all."



She went on to attack Leech's past work. "I think John Leech needs to just take a look at his own record. He's been an MP for the area for five years. He's been paid to do what he's doing. I can stand proud on my record for what I've done for students while I've been a candidate working in my own time and without pay."


Yet Leech dismissed her arguments as "ridiculous" saying: "I'm the local MP. I've done a lot of things in the area while I've been MP and in the time before I was MP. I had a reputation of getting things done and working within the community. It's frankly a nonsense."



Adding fuel to the fire, Powell will not be appearing at a University of Manchester Students' Union Q& A with election candidates this week, although she denies pulling out. "The demands on my time are relentless and I can't possibly do everything I'm being asked to do so this is in no way any kind of reflection on my commitment to woo the student vote.


"I've got a strong track record of doing stuff on campus. I've participated in a number of debates. I've brought government ministers from Ed Miliband to Andy Burnham, down to campus. I hosted a huge event with Eddie Izzard" she said, referring to events that took place in 2008 and 2009.



When asked what commitment was taking precedent than a debate with student constituents Powell said: "I don't need to tell you what is in my diary. I don't reveal what my diary is to anybody. It is absolutely jam-packed full."
Leech remained unimpressed. "She was unwilling to give information about what the diary commitments were that stopped her from going to a health debate last week as well, although it did seem to coincide with when Eddie Izzard was in town so maybe she was too busy with her celebrity friends to turn up at a very important debate on health," he said.



When asked about his leader Nick Clegg's huge success in the recent television debates Leech said: "We all knew within the Party that Nick Clegg would do very well in the debates because he comes across as a different kind of politician, as a normal human being, as a man of the people."



When asked whether Nick Clegg's surge in the polls has worried her, given her main opponent is a Lib Dem, Powell said: "Let's see how the next two and a half weeks play out. It's very early days. Nick Clegg can't be the Prime Minister. It's mathematically impossible."



Leech responded in kind. "Labour have got no campaign. They've got no record of working in the constituency. They're trying to frighten people into voting Labour," he said.