Withington MP joins student pub crawl
| May. 3, 2010 |
Published by Student Direct: Mancunion //pdf1//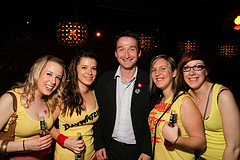 Photo: Girish Gupta
Students on last week's general election pub crawl were joined by Lib Dem MP John Leech as they drank their way through Font, Baa Bar, Orange Grove and on to Red Rum in Fallowfield, all in aid of RAG Week.



The MP for the marginal constituency of Manchester Withington spent two hours talking to both Lib Dem supporters and surprised drinkers on topics from Gordon Brown's now infamous recording in which he called Gillian Duffy a bigot to Lib Dem policies on Trident to a girl whose parents worked for BAE Systems.



"The pub crawl was a great opportunity to raise much needed cash for local causes and to show that students are still interested in politics," said Catherine Sargent, incoming chair of RAG. "The money raised is testament to how engaged the students were with helping RAG and with spreading the message of their campaigns.



"It was brilliant that John Leech was able to show how important students are to his campaign and his constituency. Seeing him out with students demonstrated that when politics is involved with student life, students want to be involved."



Second year Lucinda Thompson was impressed to have had the opportunity to speak to the MP. "Leech was very approachable. That's the first MP I've seen actually face to face on the street campaigning. That was really valuable.



"The student electorate is a huge proportion of South Manchester's voters so I was surprised he was the only candidate present."



The Conservative and Labour candidates were also invited to the pub crawl but declined.



The Conservatives won the night in terms of money raised. The blue bucket ended the night filled with £72, while the Lib Dems' raised £56, with Labour coming in third place with just £22.