Ten days in Australia and not a kangaroo in sight
| May. 10, 2010 |
Australia
Published by Student Direct: Mancunion //pdf1//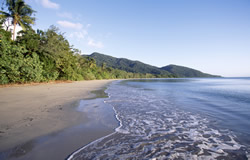 Photo: Girish Gupta
I'm sat in the curiously named Hog's Breath Café in Cairns, north-eastern Australia. The walls of the diner are decorated with an odd blend of American rock'n'roll and Australian surf culture.



The surf I can understand, well the marine link at least: Cairns is the stepping stone for many to the Great Barrier Reef.



On my mind, however, is the desperation not to let my arms rub against the wooden table. They are covered in insect bites which itch and inflame on contact or even thought.



You would think that after a sandfly bite in Peru which left me with a flesh-eating bug and three weeks in an infectious diseases unit, I'd be slightly more cautious when I was next told to wear insect repellent in the rainforest. That coupled with Australia's fame for deadly wildlife—the jellyfish, snakes and spiders are some of the world's deadliest—would make me silly to ignore that advice.




But no. When I was told that Australia had a rainforest, I brushed it aside. I've been to the Amazon, I thought. That's rainforest. Australia is just desert, nice beaches and apparently they have a few trees and some humidity which they're trying to sell as rainforest.



Well, Australia's insects had got me back for being so flippant and doubting the majesty of its jungle.



The Daintree Rainforest is a short drive—an actual short drive, not the equivalent of London to Edinburgh which gets you to the next town on this vast landmass—north of Cairns. It is 140 million years old. Now that means nothing unless you compare it to the Amazon, which began forming 'just' 10 million years ago.



"There are lots of different species of animals that have rainforest versions of themselves," says Roddy, driving our bus up from Cairns towards Cape Tribulation and on to Port Douglas, skirting the edge of and then cutting right through the forest. "We have big lace monitors in here, which is like a smaller version of the komodo dragon."


Roddy was one of the Cairns bus drivers who was actually interesting. In and around Cairns, they seem unable to drive without giving a commentary throughout. Most of them made me wish a komodo dragon would come flying through the driver's-side window, however, Roddy (of Tropics Explorer, www.tropicsexplorer.com.uk) knew his stuff and so listening to him was fascinating.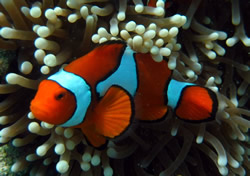 Photo: Girish Gupta
He took a group of us on a walk through the rainforest as the rain pummelled. He pointed out a female golden orb spider, a huge beast seen often in the Daintree. Males congregate on her huge web waiting until she is eating before they attempt to mate so as not to be eaten themselves.


What is incredible about the Daintree is that the rainforest comes to an abrupt end, at which point you find yourself on gorgeous white sand looking into crystal clear waters. This is often flaunted by Port Douglas brochures, and deservedly so. The only thing making it less than perfect is the concentration of venom in the waters.



"These box jellyfish," Roddy begins as we drive along the coast, "the reason they're so toxic is that they're soft-bodied organisms so they have to kill their prey instantly. You can imagine if a jellyfish got a little prawn in its tentacles, it'd rip the jellyfish to pieces. That's why they have such a highly toxic sting to them, so they can paralyse their prey and not injure themselves when they're feeding."


The box jellyfish is one of the most dangerous animals on the planet. Its sting is very often fatal and incredibly painful. We continue on and possibly for the jellyfish, do not get our feet wet for the first full day of this trip.



The following day is the opposite. Not only do our feet get wet, we spend a good part of the day immersed in the beauty of the Great Barrier Reef.
A cyclone had passed over the reef and through Cairns the previous day. The Quicksilver (www.quicksilver-cruises.com) boat ride out to one of the nearly 3,000 reefs that make up the marvel was therefore a bumpy one leaving most of the passengers sea-sick. Thankfully, I was able to control myself which allowed to me to get ever more nervous at the thought of diving.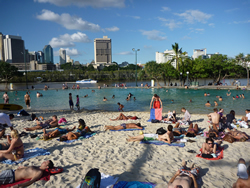 Photo: Girish Gupta
Scuba diving in itself is a strange but beautiful concept so when I first jump into the warm waters of the Pacific, I was primarily amazed by my ability to breathe underwater. I look out and around and am entranced by what's going on around me.



The view is wildlife that flirts with you and then darts off to hide in the coral it inhabits. You follow it but your gaze is stolen by one of the many other bright attractions swimming the other way.



The three of us were all novice divers. What surprised me was that we needed no prior training—except watching a terrifying video which posed more 'what if' questions than it answered—was required to go down to nine metres, which vertically is a long way. And nine metres in the shallow waters covering the Great Barrier Reef is ample!



Lying on the deck of the boat in the blistering sun, still clad in a stinger suit in the hope that I would be diving back into the sea, I realise that Australia in just two days has offered me gorgeous sunny beaches, a deadly—and very much proper—rainforest, as well as this underwater fantasy coloured in with Finding Nemo characters. And I'm not even touching on the outback.



Having visited just one corner of this huge country, it is possible to find these three natural wonders, all within 100 meters of the coastline. I fly a few hours south and find myself in Brisbane, which immediately strikes me as a larger, hotter version of what London's South Bank, and maybe London itself, would like to be.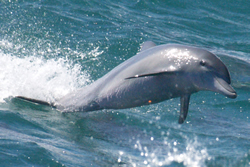 Photo: Girish Gupta
Like London, Brisbane is focused on a river, the Brisbane River (Australian names either baffle, taking in Aboriginal culture, or are the obvious, named most likely after a settler). Skirting the water's edge are parks, outside eateries, bars and a beautiful lagoon, one of the few man-made beaches that actually works.



Standing on the water's edge there, you look over the lagoon into the Brisbane River with its CityCat ferries darting between stops just as with London's own Tube—a cleaner and certainly more scenic version.



And the bars overlooking the river don't feature the men in suits of London Bridge but a young and vibrant crowd, sipping an afternoon pint whilst listening to live acoustic music.



I was only in Brisbane for a couple of days so maybe saw just the best of it, rather than the gritty workings of a city which does not allow me to fairly compare it to London. Saying that, when your hostel (www.yha.com.au) has a rooftop pool from which you can jump out and survey the gorgeous skyline of Brisbane in the early evening, there is little comparison.


--
Perth is very different to Cairns. Firstly, it is 5,000 kilometres away. This means that Australians, rather than going on holiday from one to the other will more likely head to either Asia or the United States. This meant that many of the locals we met had seen much less of the country than we had.



Being a guest of the Australian government, I was confined to their country and so was fortunate to see both sides of it. Perth was born of the Swan River Colony, named for the river that meanders from the Indian Ocean towards the city. Australia is often snubbed for having no history. This is not the case. The difference between Australian history and that we are used to is the timespan it covers.




Being such a new country, it has had much less time in which to deal with the problems faced after colonialism. The plight of the Australian Aborigines is commonly known of but scantily known about. Theirs is the longest continually-running culture on the planet yet it was ripped to pieces as Australia came to be colonised.


A walking tour of Freemantle, the port town brokering Perth with the Indian Ocean by Ryan (of Two Feet and a Heartbeat, www.twofeet.com.au) was filled not just with stories of bandits the Western Australians saw as their Ned Kelly, ghost stories and prison break-outs but also the sorry tale that is all too little heard in Australia. As his parting message to us, knowing we'd be hopping on the river to Rottnest Island the following day, Ryan told us about its haunting past.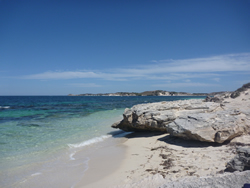 Photo: Girish Gupta
The tiny prison in the port city of Freemantle had quickly become overcrowded with Aborigines as the settlers were unresponsive to the differences between their cultures. Nearly 4,000 Aboriginal men and boys were incarcerated on the nearby island between the 1830s and the turn of the century, although prisoners were used to build roads on the island as late as the thirties.


A museum on the island lends a room to pictures and artefacts of the prisoners, and is a reminder of not just the relatively small role the island played in the stifling of Aboriginal culture but the wider ideas that settlers had about the native communities that, in being such a young country, are still problematic today.



Rottnest Island, now, is the perfect scale for a day's cycle ride and tourists flock here from Perth to do just that. Rottnest Express ferries shuttle between there, Freemantle and the island (www.rottnestexpress.com.au) many times a day.



The beauty of Rottnest is not only in its size, allowing a group to quite easily traverse it before lunch, but that next to every coastal road is an incredible beach with white sand and the clearest and warmest waters you can imagine. Not only that, the island is possibly the only place in the world where you can happily leave your bike on a railing and not have it nicked.


Later in the evening, we head to Little Creatures on the mainland. It is what a brewery should be—an amazing restaurant which serves beer brewed next door, and overlooks the Indian Ocean to top it off.



A press officer from Tourism Australia told me that whenever a tour operator puts a picture of a kangaroo on the front of its brochures, they fly off the shelves much quicker than when fronted by the rainforest/beach/ocean boundary or Uluru and so on. While the kangaroo is the emblem of Australia and therefore what many tourists presume is the most important thing to see there, this misses the point entirely.




Australia has more to offer than a kangaroo and a nice beach. If that's all you hope to see when out there, you may as well stay at home and flick through brochures. Australia really has got a bit of everything and what gets me—and the rainforest really did get me—is that everything it does, it does properly.