Major Mexican drug cartel 'La Familia Michoacána' offers to disband
| Nov. 11, 2010 |
Mexico City, Mexico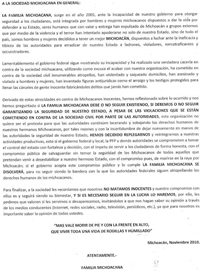 Photo: Girish Gupta
A major Mexican drug cartel is offering to disband, according to letters posted under the doors of homes and businesses in the western state of Michoacan.

The letter apparently from 'La Familia Michoacána' offers to break up the cartel on the condition that the government promises to protect citizens of the state. It also appeared as fliers posted in telephone booths, hung as banners across streets and sent to various news outlets.

Authorities have not yet authenticated the letter, however, insist that they will not negotiate with drug cartels.

The primary reason for the move given in the 500-word dispatch is the federal government's "witch hunt against the innocent citizens of Michoacán".

"Using the excuse of trying to do away with our organisation, [the government] has committed countless assaults against our civil society," the letter reads. It later claims that the Mexican government has "murdered and raped both men and women".

"This organisation does not want to be the pretext for the authorities to continue walking over and degrading the basic human rights of our fellow people," the letter says.

The cartel emerged in 2005 as it split from Los Zetas and the Gulf cartel, now at war with each other. Even by Mexican standards, it is notorious for its violence against rivals. Its ethos is based around religion and family values with its leader Nazario Moreno González, nicknamed El Más Loco (the crazy one), having written his own bible which insists that members do not consume the drugs they sell.

The letter promotes the cartel's help in the community, claiming its formation was to bring order to Michoacán as the state was failing to do so.

"Unlike the lax and inefficient stance the authorities have taken in eradicating thieves, rapists, drug traffickers, and kidnappers from our State, we are willing to fight," the letter reads.

The group asks the authorities to consider their offer and invites them to let them know the decision via any major media outlet. The letter ends: "Better to die standing with your head held high, than to live a lifetime on your knees humiliated."

Over 31,000 people have died in Mexico since President Felipe Calderón--born in Michoacán--took office in 2006. The last month alone has seen massacres in Ciudad Juarez on the US border, Mexico City and the western state of Nayarit.

Last week saw the killing by Mexican Marines of Antonio Cárdenas Guillén, nicknamed Tony Tormenta, who led the Gulf cartel. However, this has brought fear of a turf war in the Gulf cartel's base in Matamoros, in northeastern Mexico on the US border.