Hundreds flee Mexican city as turf war breaks out after killing of cartel leader
| Nov. 11, 2010 |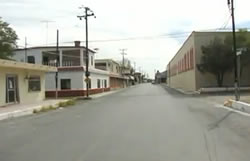 Photo: Girish Gupta
Mexico City, Mexico—At least 300 people have fled the Mexican border area of Ciudad Mier, in the northeastern state of Tamaulipas, following a week of intense violence between rival drug cartels as well as death threats to local residents.

The combat follows the killing of Gulf Cartel leader Antonio Ezequiel Cardenas-Guillen, nicknamed Tony Temprano, by Mexican Marines last Friday. The cartel is based in the state, which is now seeing rival cartels fight to take advantage of the power vacuum.

The death of the Gulf cartel leader has led to a turf war between the group and Los Zetas, a gang of Special Forces deserters who initially worked as mercenaries for the Gulf cartel before going independent in February.

Gun battles between the rival cartels have been non-stop in Mier since Friday's killing, with residents having been warned—some by telephone—to leave otherwise they would be killed. Not even city leaders, including the mayor, stayed.

"Like all of you, we're suffering from the violence. We're here with you and we're not going to leave you alone. We don't know when all this will stop. Only God knows and we pray that this might end," Mier Mayor Jose Ivan Macias told the displaced families who headed to makeshift accommodation at the nearby town of Miguel Aleman.

Miguel Aleman's mayor, Servando Lopez, told local journalists that many had paid to rent houses while order was restored to their homes. "Initially it was 30 people, but that went up to 60, 100 and now we have 300 that have come here," said Lopez.

A convoy of more than 20 Mexican Army vehicles have arrived in an attempt to bring order to the city.

Videos have surfaced on YouTube showing cars and trucks laden with possessions leaving behind empty streets with shops' shutters down. The only people present are dressed in military fatigues patrolling in convoys.

The city has a history of violence. In September, the Mexican Army killed 50 suspected cartel gunmen in two separate operations. The state of Tamaulipas has seen hundreds of deaths this year as the Gulf cartel and Los Zetas have fought to gain control of it. Nuevo Leon, the neighbouring state, saw banners erected in February announcing an alliance between the Gulf, Sinaloa and La Familia drug cartels against Los Zetas.

La Familia earlier this week offered to disband on the condition that the government promises to protect citizens of the state. The primary reason for the move, given in a 500-word letter posted around Michoacán, is the federal government's "witch hunt against the innocent citizens of Michoacán". The group asks the authorities to consider their offer and invites them to let them know the decision via any major media outlet. Authorities have stated that they will not negotiate with drug cartels.

Twenty years ago, Ciudad Mier had a population of over 6,000. However, that has now declined to under 900, many of who work in agriculture and livestock. Just two years ago, it was entered into the government's 'Pueblos Magicos' (Magical Villages) scheme, in an attempt to boost tourism.

Over 30,000 people have died in Mexico since President Felipe Calderón took office in 2006. The last month alone has seen massacres in Ciudad Juarez on the US border, Mexico City and the western state of Nayarit.