Twelve-year-old assassin the new face of Mexican drug violence
| Nov. 13, 2010 |
Mexico City, Mexico
Published by The Times //pdf1//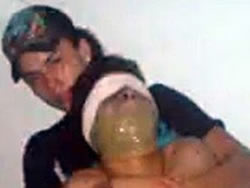 Photo: Girish Gupta
Twelve-year-old El Ponchis has become the notorious new face of the Mexican drug war. Online videos show him slitting a victim's throat, beating another with a stick and posing by corpses and weapons.

Reportedly paid $3,000 (£1,800) per murder, El Ponchis, which means "The Cloak", is said to torture victims before killing them. According to police, he works with a group of girls aged from 12 to 23, some of whom are his sisters, who dispose of victims' bodies.

The Attorney-General of Morelos, Pedro Luis Benítez, told local radio that young people were easily influenced and gang bosses made it seem like a game: "The [young people] are persuaded to carry out terrible acts. They don't realise what they are doing."

El Ponchis is believed to be a member of the South Pacific Cartel, which formed in April and is fighting La Familia Michoacána for control of southwest Mexico. The group is allied with Los Zetas, special forces deserters who last week forced the evacuation of more than 300 people from the northeastern city of Ciudad Mier in a turf war with the Gulf Cartel. Its leader, Antonio Ezequiel Cárdenas Guillén, was killed two weeks ago.

It was a similar set of circumstances that led to the formation of the South Pacific Cartel, after the killing of Arturo Beltrán-Leyva, leader of the Beltrán-Leyva Cartel last December. The South Pacific Cartel are seen as heirs apparent to the Beltrán-Leyva brothers' former gang.

More than 30,000 people have died in drug wars in the country since President Calderón took office in 2006. In the past month alone there have been massacres in Ciudad Juárez on the US border, Mexico City and the western state of Nayarit.