300 families made refugees as turf war between rival drug cartels takes over Mexican city
| Nov. 16, 2010 |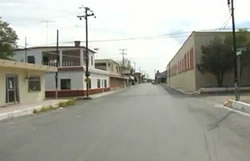 Photo: Girish Gupta
Mexico City, Mexico—At least 300 Mexican families have been forced to become refugees as their hometown of Ciudad Mier, Tamaulipas, is taken over by rival drug cartels fighting a violent turf war. The fighting between the cartels is beginning to take over six cities in the northeastern state.

The combat follows the killing of Gulf Cartel leader Antonio Ezequiel Cardenas-Guillen, nicknamed Tony Temprano, by Mexican Marines two weeks ago. The death of the Gulf cartel leader has led to a turf war between the group and Los Zetas, a gang of Special Forces deserters who initially worked as mercenaries for the Gulf cartel before going independent in February.

"They killed the brother of a friend of mine. They cut him in pieces and hung him in the plaza," resident of Ciudad Mier, Maria Elena Tamez, told NPR. She is just one of hundreds of people now in makeshift accommodation at the town of Miguel Aleman, 15km east of Ciudad Mier.

Gun battles between the rival cartels have been non-stop in Mier since the killing of the cartel leader on 5 November, with residents having been warned—some by telephone—to leave otherwise they would be killed. Not even city leaders, including the mayor, stayed.

Almost 3,000 members of the Army, Marines and Federal Police are now stationed in various cities in the state of Tamaulipas. At least four soldiers were killed following a shootout over the weekend in Ciudad Mier. Four gunmen, apparently from Los Zetas, were also killed.

The city has a history of violence. In September, the Mexican Army killed 50 suspected cartel gunmen in two separate operations. The state of Tamaulipas has seen hundreds of deaths this year as the Gulf cartel and Los Zetas have fought to gain control of it. Nuevo Leon, the neighbouring state, saw banners erected in February announcing an alliance between the Gulf, Sinaloa and La Familia drug cartels against Los Zetas.

Meanwhile ten kidnap victims, including a 7-month-old baby were rescued by the Mexican Navy over the weekend in Altamira, Tamaulipas, on Mexico's Gulf coast. The victims are thought to be migrants heading towards the United States. Three were Mexican, four Colombian, two Salvadorians and one Ecuadorian. Three Altamira police officers are suspected of kidnapping the victims and have been arrested.

Seventy-two migrants were found dead in August in the same state.