What the New York Times didn't reveal about its expulsion from VenezuelaGirish Gupta
| Mar. 9, 2021 |
In 2017, the New York Times published a cartoon story giving a blow-by-blow account of how star foreign correspondent Nicholas Casey had in October the previous year been expelled from Venezuela, denied entry at immigration. "I was banned from Venezuela," ran the Times' headline above a comic strip showing a giant hand stopping Casey at Caracas' international airport.

"One day, in October 2016, when I was returning to the country after taking some days off, immigration officers said I couldn't enter Venezuela," wrote Casey. "I never thought the New York Times would be banned." Soon after, Casey won a major international reporting award, was a key player in the Times' "Truth Is Worth It" marketing campaign and his face now leads the newspaper's subscription webpage which proclaims, "Our journalists are steadfast in bringing you the truth." The Times' publisher Arthur Sulzberger said Casey was "barred from Venezuela for aggressive reporting."

However, there is more to the story, according to internal New York Times emails, Venezuelan government documents issued to Casey and three people working with the Times.

Casey attempted to enter Venezuela on October 31, 2016, and was indeed turned away at the airport—as were many other reporters and foreigners coming in at the time, with or without the correct visas. However, what Casey's article did not reveal is that he had been approved for a work visa weeks earlier, had not collected it because he had run out of passport pages and had tried to enter Venezuela regardless after a short vacation.

"He didn't come in with the right visa. He made up a scandal when there wasn't any expulsion," said journalist Patricia Torres, the New York Times' contractor in charge of dealing with Casey's immigration process in Venezuela.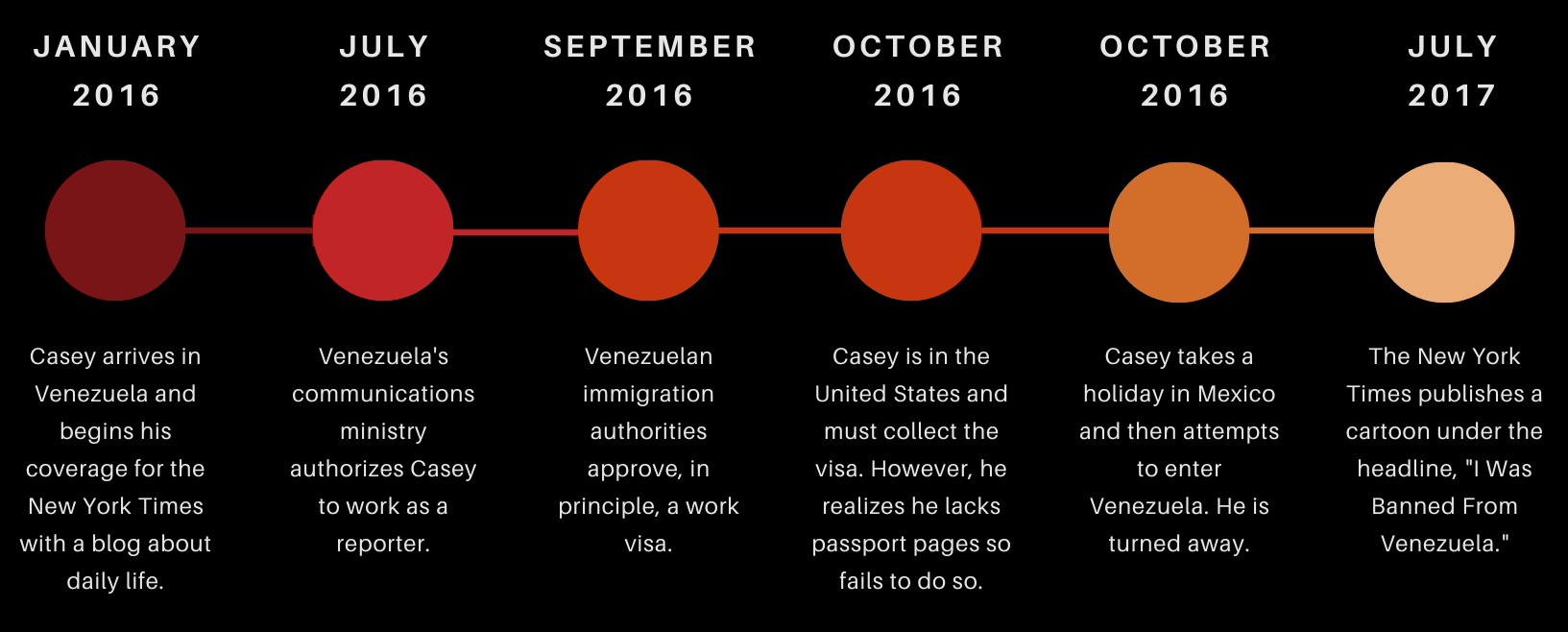 A New York Times spokesperson described these findings as "inaccurate." She declined, however, to provide counter evidence or directly answer questions. Casey did not respond to questions.

Journalists from nearly all foreign news outlets, including long-established ones in Venezuela, were denied visas in 2017 amid a clampdown by the government. Reporters knew that the government would use any hole in their visa status to prevent them from entering the country.

"At a time when freedom of the press is actually under attack, it matters to know when it is actually under attack and when the press is manipulating it for gain," said a longtime foreign correspondent based in Venezuela, asking not to be named for fear of reprisal from the news industry.

However, Casey had been on track.

Casey originally arrived in Venezuela in January 2016, beginning his reporting with a personal blog on daily life. Already, Venezuela was undergoing a humanitarian crisis, with millions suffering food and medicine shortages, crippling inflation and the effects of a collapsed currency. Its government, under President Nicolás Maduro, had long been hostile to both domestic and foreign reporters and had on occasion kicked them out. Obtaining the correct visa for a foreign reporter was a delicate and tedious process that sometimes ended in failure.

Internal emails between Casey and the paper's administrative and legal staff mid-2016 show that they sought a "transient worker" visa, typical for foreign correspondents, with the help of a Venezuelan broker. A July 2016 letter from Venezuela's communications ministry authorized Casey to work as a reporter in Venezuela and a September letter from immigration authorities authorized a work visa which would allow him in and out of the country.

The next step was to take the authorization letter to a Venezuelan consulate in the United States in order to collect the visa, something all foreign reporters working legally for long stints in Venezuela have had to do. However, an email dated Oct. 4, 2016, from Casey to his Venezuelan broker says, "My passport lacks empty pages for the visa and I'm getting more."





But Casey did not obtain the necessary pages and so did not collect the visa. Instead, Casey had gone on vacation to Mexico between October 21 and 30, 2016, before his flight back to Venezuela, according to an email he sent to the Times' various Venezuela contractors on September 16, 2016.

"Instead of going back and getting the work visa, he tried to come back to Venezuela using his tourist visa," said Torres, referring to Casey's attempted entry to Caracas on Oct. 31, 2016.

Two other people close to the process corroborated this story though asked that their names be withheld for fear of retaliation from the New York Times and other media outlets.

It is unclear why Casey was unable to enter on the tourist visa he had held.

Casey's assistants attempted to persuade the Venezuelan government to reconsider. An email from Torres to Venezuelan officials the following day, November 1, 2016, read: "At immigration, [Casey] was told he couldn't enter because he held a tourist visa... Nick had to leave New York before completing the process." Casey, copied in, responded to the email within 20 minutes to thank Torres and clarify his flight number.

The New York Times did not mention any of this in its story on Casey's expulsion and Casey did not mention it in follow-up interviews.

"I wasn't given any explanation other than the visa I had was essentially being revoked," Casey told Columbia Journalism Review in August 2017. "I wouldn't be allowed to come into the country anymore."

During his time in Venezuela, the New York Times went big on Casey's work, giving him star treatment and placing his stories on front pages. Following his blog, stories ranged in topic from the country's mental health crisis to fleeing refugees.

Many foreign reporters did continue to work in Venezuela. Reuters, Bloomberg and Associated Press all had full time bureaux in Venezuela while correspondents from outlets including the Washington Post and Miami Herald routinely sent reporters in to cover the country's crisis. Many reporters—often locals—who suffered harassment from Venezuelan authorities did not make their stories public for fear of further attack and a desire to keep reporting the crisis.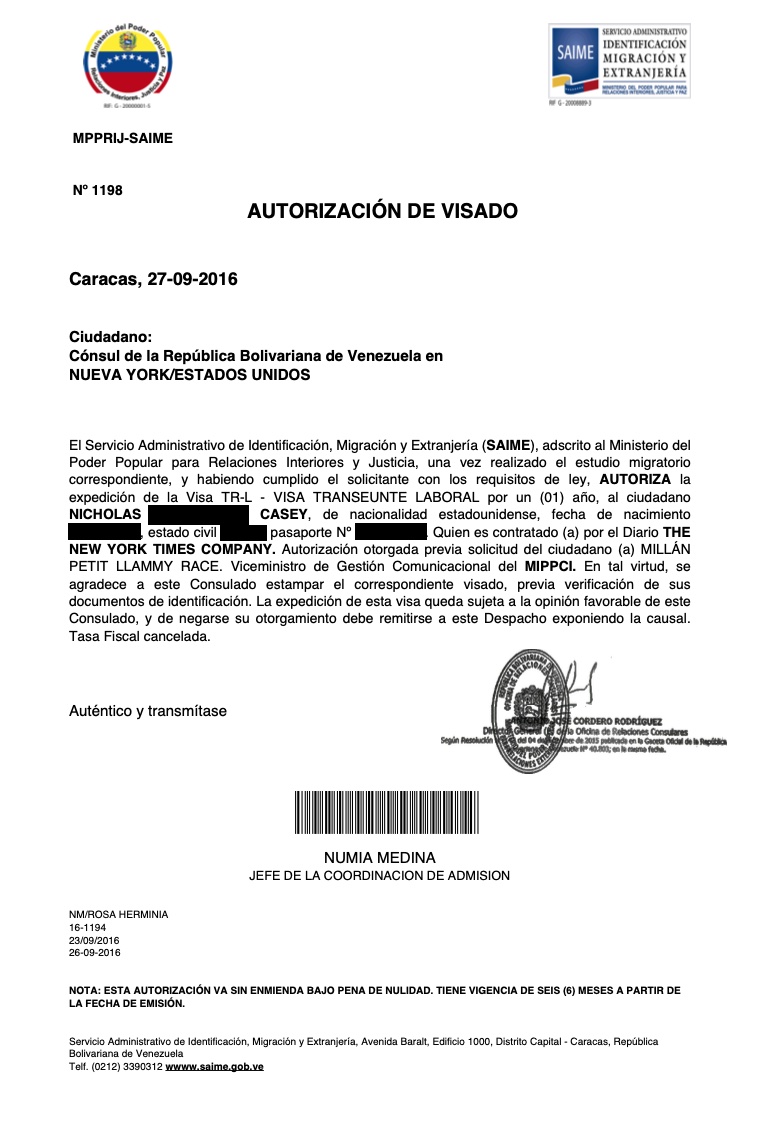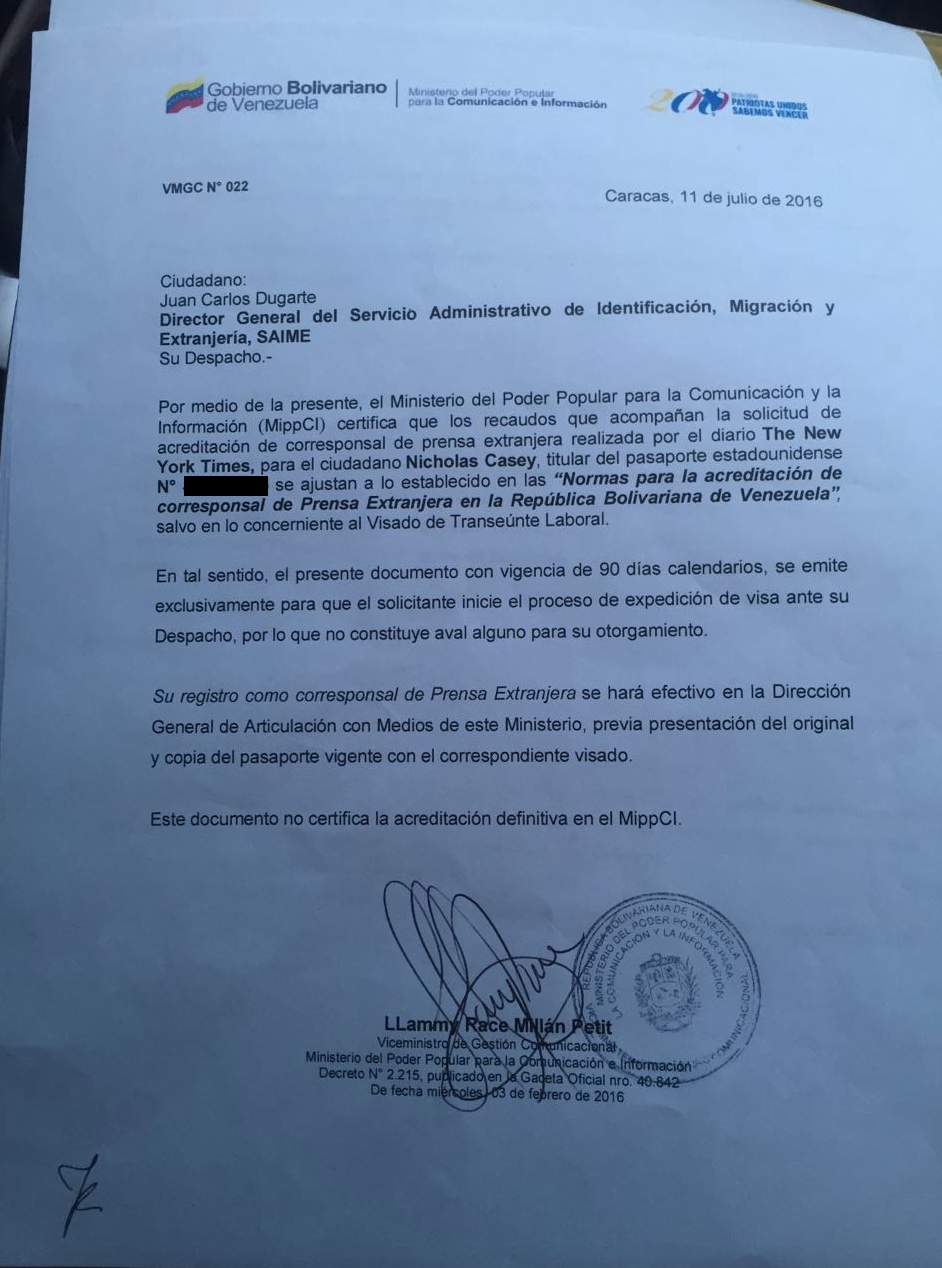 Casey acknowledged but did not respond to detailed questions for this story sent by email in May.

Danielle Rhoades Ha, Vice President of Communications at the New York Times, said: "Your understanding of events is inaccurate. The government never issued a permanent visa to Nick, and expelled him in October 2016."

Rhoades Ha did not directly answer the question, "Did Nick get extra pages for his US passport and take it to the Venezuelan consulate in the United States in order to pick up a TR-L visa before October 31, 2016?"

However, Rhoades Ha implicitly confirmed that the answer was no: "Nick brought a new passport, with additional pages, to the Venezuelan consul in New York after he was not allowed to enter Venezuela." (Emphasis added.)

This came as part of a longer statement about what came after October 31, 2016: "When Nick brought a new passport, with additional pages, to the Venezuelan consul in New York after he was not allowed to enter Venezuela, the consul told Nick he could not give the permanent visa. The consul said the final decision to grant Nick the permanent visa would have to be made in Caracas, despite Nick having been told he had been approved for the visa already. The government never issued the visa."

Rhoades Ha did not respond to the question: "Why was none of this very key information mentioned in the Times' story?"

Venezuela's communications ministry did not respond to a request for comment.

Casey continued in his role as the Times' Andean Bureau Chief from Medellín in Colombia. In September 2019, the Times announced that Casey would be moving back to the United States to cover national politics. The announcement reiterated that Casey's work in Venezuela "resulted in the government's forcing him out." In December 2020, Casey moved to Madrid with the Times and this time—after the details of this investigation had been revealed to the newspaper—the announcement did not mention anything about his Venezuela expulsion.

The New York Times' Venezuela-based contractors continued throughout to work in-country. And staff continued to come in and out: Kirk Semple reported from Venezuela in 2017 and 2018. Casey's replacement as regional bureau chief, Julie Turkewitz, arrived in neighboring Colombia early 2020 and has reported from Venezuela since.

Even Casey himself made it back to Venezuela after his expulsion—twice. The first visit was in May 2018, the second a year later. Discussing the second trip, Casey told NPR, referring to his entry having been denied on October 31, 2016, "It's not just against me but against journalism."