Mexican politician released after seven months in captivity
| Dec. 21, 2010 |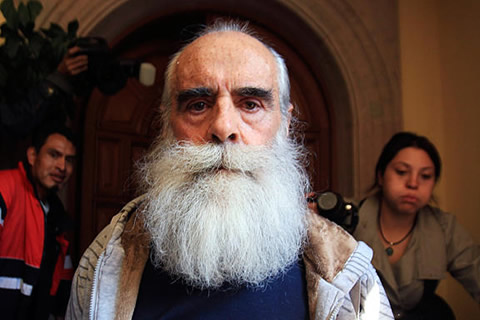 Photo: Girish Gupta

Emerging from his Mexico City home with a bushy beard to rival that of Father Christmas, prominent politician and former presidential candidate Diego Fernández de Cevallos announced his release by kidnappers seven months after being seized at gunpoint.

Rumours of his release circulated three weeks ago as newspaper El Universal reported that his family had paid a $20m (£12.8m) ransom to secure the release. However, these were never substantiated and it is only Mr Fernández' emergence today (20 DEC 2010) that has confirmed he is no longer in the hands of kidnappers.

"I just want to say that I am well, thank God. I'm strong and my life will remain the same," the former presidential candidate told reporters gathered outside his home.

"I thank God and the Virgin for the help they gave me for the past seven months. I have many reasons for gratitude to many known and unknown people."

Mr Fernández, 69, disappeared in May while driving to his ranch late at night near San Clemente in the central Mexican state of Queretaro. Kidnappers issued several photos of a bare-chested and blindfolded man in the coming weeks.

Federal investigators announced shortly afterwards that no further enquiries would be taking place, fuelling speculation of a ransom deal being negotiated with the politician's family.

Neither Mr Fernández nor authorities have made any comment on any ransom paid or the possible identity of the kidnappers.

Nicknamed Jefe Diego, or Boss Diego, Mr Fernández was a major figure in President Felipe Calderón's National Action Party (PAN). He came second in the 1994 presidential election himself and played a major role in the Party's win in 2000 over the rival Institutional Revolutionary Party (PRI) which held power in Mexico for over 70 years.

Charismatic and often brandishing a cigar, the politician also ran a successful law firm that represented reputed drug lords as well as some of Mexico's biggest businesses.

Kidnapping of public officials and rich Mexicans for ransom is rife, though usually ends in the victim's death. It is unclear who Mr Fernández' kidnappers are. Leftist guerrillas have been blamed, rather then drug cartels.

The Mexican Attorney General, Arturo Chávez Chávez, announced last week that the number of deaths in Mexico's drug wars had reached 12,456 this year alone.

Later that same day, Marisela Escobedo Ortiz, a mother who had spent years campaigning against crime in the country following the killing of her 17-year-old daughter, was gunned down as she protested outside a government building in the northern state of Chihuahua. Her brother-in-law's body was found dumped four days later in the notorious city of Ciudad Juarez, which itself has seen more than 3,000 deaths this year alone.

Drug cartels are suspected in those killings as well as for an explosion that killed 28 people in Puebla, central Mexico, on Sunday. In an attempt to rake in extra money, cartel members are thought to have been tapping into an oil pipeline to sell on oil and gas.

At least 52 people were injured with more than 100 homes damaged in San Martin Texmelucan, Puebla. One government official described "rivers of fire" flowing through the city's streets.