Last cop in lawless town is kidnapped by drug cartels she dared to take on
| Dec. 29, 2010 |
Published by The Times //pdf1//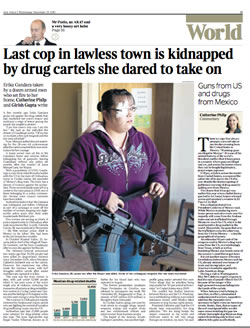 Photo: Girish Gupta
Catherine Philp and Girish Gupta

A few months ago Erika Gandara spoke out against the drug cartels that had murdered her town's mayor and instituted a reign of terror among the people she sought to protect.

"I am this town's only cop. I am the law," she said as she patrolled the streets of Guadalupe alone. "Of my ten co-workers a few just resigned and the rest were all killed."

Now, Mexican authorities are searching for the 28-year-old policewoman after the cartels exacted their own retribution for her courage.

A dozen armed men set fire to Ms Gandara's home and vehicles before kidnapping her at gunpoint, leaving Guadalupe without any police six months after the murder of Jesús Manuel Lara, the Mayor.

With a population of 9,000, Guadalupe is only three miles from the border with the US in the state of Chihuahua, home to Ciudad Juárez, the epicentre of Mexico's drug wars. The town has a history of violence against the authorities.

Three severed heads were left in a cooler in the main plaza in 2008, one of them belonging to a police commander.

Several town council members have been killed.

Authorities believe that Ms Gandara was kidnapped just before Christmas as part of a campaign to scare off the number of women stepping into highprofile police posts after their male counterparts fled their jobs Five women are serving as chiefs of police departments in Chihuahua after male incumbents fled. A sixth, Hermila García, 38, was murdered in November — the first woman police chief in Mexico to be killed. She had been in the job for just two months.

In October Marisol Valles, 20, became police chief of the village of Praxedis Guerrero, not far from Guadalupe, after no one else applied for the job.

The Attorney-General announced two weeks ago that 30,196 people had been killed in drug-related violence since December 2006, when President Calderón declared war on the cartels. However, the crackdown has often made the violence worse, with turf struggles within cartels after senior members are captured or killed.

This year was the most violent to date, with just under 12,500 people killed. It has seen some of the worst single acts of violence, including the massacres of patients at drug rehabilitation centres in Ciudad Juárez and Tijuana and the killings of 74 migrant workers who were trying to cross the border. The violence in Chihuahua is mainly between the Sinaloa and Juárez cartels who are fighting for control of lucrative drug trafficking routes into the US.

Authorities said that 27,000 people were arrested for drug-related crime this year. The most high-profile was Edgar Valdez Villarreal, known as El Barbie for his blond hair, who was captured in August.

The former presidential candidate Diego Fernández de Cevallos, was released by kidnappers last week. Mr Fernández 69, disappeared in May. A ransom of $30 million (£19 million) is thought to have been paid.

In Ciudad Juárez, gangs are used by rival cartels to smuggle drugs, import weapons, kidnap and murder rivals and law enforcement officers and extort money from business people.

The leader of the Aztecas, Arturo Gallegos Castrellón, was another highprofile gang leader arrested this year. Police allege that he admitted being responsible for "80 per cent of all homicides" in Ciudad Juárez since 2009. The conflict has fuelled tensions between Mexico and the US. Washington is withholding millions in promised assistance money until Mexico takes measures to stop human rights abuses.

President Calderón said that the US should take responsibility for drug addiction. "We are living beside the largest consumer in the world and everyone wants to sell him drugs through my window, my door," he said.