Policeman's head found as drug war killings soar to 12,500 in a year
| Dec. 30, 2010 |
Published by The Times //pdf1//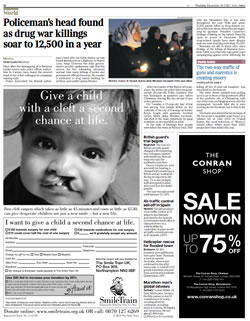 Photo: Girish Gupta
Days after the kidnapping of a Mexican border town's only police officer, authorities in Cancun have found the severed head of one of her colleagues in a separate warring state.

Police discovered the federal policeman's head after his bullet-ridden car was found abandoned on a highway in Nuevo León. Jorge Domene, the state government's security spokesman, said that the motive for the beheading remained unclear. But, like many killings of police and government officials, the murder is attributed to drug cartels battling for territory and control across Mexico.

After the murder of the Mayor of Guadalupe, the entire city police force resigned, except 28-year-old Erika Gandara. She was kidnapped at gunpoint just before Christmas, leaving the city devoid of any police presence.

On Tuesday, a 13-year-old taxi driver was among four people killed on the outskirts of the city of Durango as federal forces fought with gunmen. Another victim, María Elena Nevárez Escobedo, was shot in the head, reportedly by gang members, as she travelled on a bus.

The state of Durango has seen the deaths of four others this week as Mexico ends 2010 with the bloodshed it has seen throughout the year. With just under 12,500 people killed in drug-related violence this year alone, Mexicans are beginning to question President Calderón's strategy of taking on the cartels. Since he came to power in December 2006, drug-related deaths have risen sharply year-on-year, totalling more than 30,000.

Mexicans are still in shock after video footage of the killing of Marisela Escobedo Ortiz, a mother who had spent years campaigning against crime following the killing of her 17-year-old daughter, was circulated on the internet.

The video shows masked men pulling up in a car in front of the governor's office in the northern city of Chihuahua, with one of the men exchanging words with the campaigner. Seconds later she is seen running across the street, but is shot in the head.

The burnt and dismembered remains of Ms Escobedo's daughter were found in a rubbish bin in June 2009 in Ciudad Juárez, the most notorious of Mexico's violent cities, where more than 3,000 people have been killed this year.