Ilan Pappé Speaks to Manchester Students
| Feb. 19, 2009 |
Manchester, England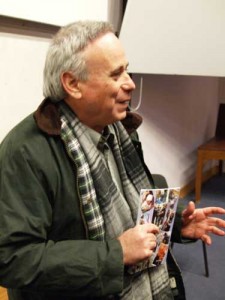 Photo: Girish Gupta
Israeli-born Professor Ilan Pappé spoke to a packed lecture theatre last week about the conflict currently ravaging Gaza, which has prompted a barrage of protests around campus.



The Professor of History talked of the simplicity of the troubles, which he claimed have become shrouded in complexity to further Zionist aims. The 400-strong audience in the University's Roscoe Building listened attentively to Pappé compare the Israeli occupation of Gaza to colonialism.



Pappé talked about the appointment of George Mitchell as US special envoy to the Middle East as well as the appointment of Tony Blair as the official envoy of the Quartet peace mediators on behalf of the UN, EU, USA and Russia. "We don't want to ask Count Dracula to do a blood count," he said to applause and laughter from the audience.



"What Israel does is not Jewish at all, neither is the state of Israel. The two are not compatible," he said in a conclusion to his hour-long lecture. He said that Israel needed to realise that it was part of the Middle East.



Third-year student Peter Darkin said: "I was really impressed to see such a good turnout from people outside of the Jewish or Islamic Societies. I think it's a testament of the compassion of the Manchester student body."




Pappé is a Professor of History at the University of Exeter. Born in Haifa to German-Jewish parents, he was conscripted into the Israeli Army before leaving the University of Haifa. "I was boycotted in my university and there had been attempts to expel me from my job," he said.



The talk was organised by student group Action Palestine, who are continuing their two-week occupation of the Simon Building. The protesters have said they are in a stalemate with the University's Vice-Chancellor, Alan Gilbert, with a volley of letters being exchanged on either side.