Palestine Debate Reaches Fever Pitch
| Feb. 11, 2009 |
Manchester, England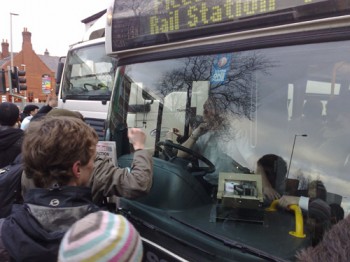 Photo: Girish Gupta
Pro-Palestine euphoria and accusations of anti-Semitism echoed across campus last Wednesday after students voted to support the Gaza Crisis victims at an Emergency General Meeting last week.



Attracting over 1,000 students, the meeting maintained quorum even after a last-minute mass walkout in protest against the "Gaza Crisis" motion. Following the successful vote, there were renewed attempts by those in favour of the motion to occupy the University's John Owens Building, but they were thwarted by Campus Security's quick decision to lock all gates. Some protesters did, however, climb over the fences, chanting in support of Palestine and calling for the resignation of Vice-Chancellor Alan Gilbert.



A week of occupations, rallies and speeches around the University of Manchester had brought student enthusiasm to fever pitch, seeing them queue throughout the Union building to get into the meeting. Academy 2 was filled with 500 people, while a similar number spilling over into Biko's Café next door.



Katan Alder, who proposed the motion, delivered a calm speech to a silent audience in which he outlined Gaza's current problems and those of the past 60 years.



Alder claimed that it was necessary to sanction Israel due to the similarity of the current situation to that of apartheid in South Africa. This was used as reasoning for the University to boycott Israeli goods, just one of the protesters' many demands.



In a message to Gilbert, Alder said later: "Every single time you try and marginalise a campaign, people will come back stronger. We may have won one battle but the war is continuing and we're going to keep fighting… We're not going away."



UMSU Anti-Racism Secretary Oliver Worth read out aspects of Hamas' charter, which he claimed support homophobia and murder. "It's truly frightening that there are students unwilling to condemn a universally recognised terrorist organisation," he said after the meeting. "I hope that the vast majority of students recognise that the people that walked out of the meeting originally came to break down barriers, find common ground and unite as a campus to support those in need."



Worth was keen to point out an Islamic Society email sent last week which "call[ed] for … solidarity with Hamas" as well as Gaza.



To the delight of the overwhelming majority of those attending, a procedural motion was put forward to go straight to a vote, as otherwise the motion's 16 amendments would have has to be debated first.



Just before the final vote, Chair of Council Jonty Pryor was interrupted by a procedural motion asking for his removal. Using this platform, Carly Mackenzie initiated possibly the most shocking of the day's events, the mass exodus of the hundreds of students against the motion, in protest.



Alder commented: "It doesn't matter that they walked out. If they don't want to be part of a democratic Students' Union, that's up to them."



Third-year Medic Josh Seshold however claimed that he had left the meeting due to feeling "threatened, being visibly Jewish". He went on to describe the meeting as a "poor show of democracy".



Despite these actions, the motion was passed to the sound of jubilant cheers from an exuberant audience.



After the meeting Pryor said that he was very happy. "Logistically the meeting was quite successful… I would like to thank everyone for not allowing the meeting to descend into chaos and also thank them for their confidence in me as I believe only one person voted to remove me."



Alder later spoke to Student Direct about Gilbert. "Every time [he] raises his head… we'll be outside reminding him that we're here. He's been chased out of Melbourne and unless he begins to negotiate, that's what's going to happen here," he said, referring to Gilbert's previous role at the University of Melbourne, where both staff and students protested against him.



Communications Officer Robbie Gillett has since written an official letter to the University informing them about the students' decision and their requests.



On Thursday, four protesters disrupted a lecture Gilbert was giving to staff researchers from the Faculty of Life Sciences. They held up signs with their demands at the front of a Michael Smith Building lecture theatre for half an hour to show the passing of the motion "wasn't an end in itself, but would be continued," said Philosophy student Gabriel Hassan. Gilbert acknowledged their presence and thanked them for keeping their protest silent so the talk could continue.