D:Reams Coming True For Rock Star Physicist
| Oct. 13, 2008 |
Manchester, England
A more recent interview with Cox appears here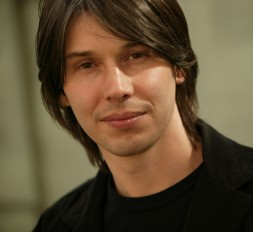 Photo: Girish Gupta
A former keyboard player in '90s band D:Ream, Brian Cox has earned himself the title 'Rock Star Physicist' making him one of the cooler breed of scientists engaged in the task of bringing the subject to the masses.



At the age of 22, after the split with first band Dare, Cox followed his passion for Physics by beginning a degree in the subject. Whilst at University, he joined D:Ream – famous for their single 'Things Can Only Get Better', adopted by the Labour Party as the theme for their 1997 election campaign – while at the same time being captivated in lectures by fellow academic Jeff Forshaw.



The friendship between Forshaw and Cox has lasted, as they have worked together on scientific papers, contributed to television documentaries and have just finished writing a popular science book together, due out next Spring.



According to Cox, " Educated thought is not valued enough… I think that science has not for a long time played its rightful role in society."



The loss of rational thought in society was a topic heavily debated after Richard Dawkins' 'God Delusion' was published in 2006. However, Cox finds this debate "redundant". He said: "It's important that you don't get a society at odds with itself and that is polarised… Religious thinking and rational thinking can't be seen as exclusive.



"I prefer to look at the common ground [between religion and science], At least religious people and scientists have noticed that there is something beautiful that is worth explaining about the world. The worst people haven't noticed! That's the common ground and we can move on from there."



The conversation moved on to Cox's important, yet controversial, work on the LHC (Large Hadron Colider) at CERN in Geneva. "I see the LHC as a line of physics that started with [Isaac] Newton… We're not just doing this because it seems like a cool thing to do. We're doing it because our understanding of the forces of nature [have broken] down."



Asked about the benefit of the research was for the taxpayer, after criticism about the project's huge cost, Cox argued that benefits were not always immediately obvious, like the World Wide Web, which resulted from a heavily funded research project but is now available to anyone. He went on to talk about how ludicrously small government science budgets were in the western world to begin with. "[It is] nothing compared to the money that physics generates for the economy," he said.



Cox is juggling his calendar between project managing at CERN, writing and filming for the BBC's Horizon with Forshaw and his many other commitments with the media. Despite being busy, the physicist was clearly enjoying himself. Things are going well for Brian Cox and look like they are only going to get better.