Chávez in Cuba: remote control?
| Jun. 21, 2011 |
Published by Financial Times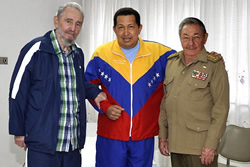 Photo: Girish Gupta
Switch on the television in Venezuela and more often than not, the face of president Hugo Chávez will peer out, speaking of the ills of capitalism and the success of his own government. But for nearly two weeks now, the president has remained uncharacteristically quiet – not even updating Twitter – as he lies in a Cuban hospital bed recovering from a pelvic abscess operation.

A golden opportunity for the Venezuelan opposition, you might think. But even as a bloody prison riot and power cuts add to a sense of spreading chaos back home, those unhappy with Chavez's increasingly dysfunctional regime have yet to unite to find a leader or platform to rally behind.

Chávez's silence is bordering on the eerie. In just one phone call to Caracas-based television network Telesur ten days ago, he explained that he was keeping a close eye on Venezuela and was perfectly able to govern from Havana – a "good place" to fall ill.

However, the "few days" after which the charismatic leader was expected to return have long passed, raising questions about his health – and about governability. When Chávez passed a Special Debt Law from Havana, opposition lawmakers questioned its legality, though Congress has since ratified it.

As uncertainty spreads, some in Venezuela have suggested that the president's visits to Brazil and Ecuador earlier this month were little more than a means of getting him to Cuba for a serious operation.

Meanwhile, at the El Rodeo prison just east of Caracas, more than 5,000 troops are battling to regain control against heavily armed inmates. Hundreds of family members wait outside to hear if their loved ones are still alive. Annoyance at power outages also festers, as Venezuelans increasingly feel let down by their government.

Chávez's ill health in Havana has reminded many of Cuban leader Fidel Castro's health problems and inability to govern five years ago. To many, the pair now seem increasingly isolated, as the old guard of the Latin American left gives way to the sprightly and more moderate left of Ollanta Humala, Peru's president-elect, and Luiz Inácio Lula da Silva, Brazil's former president and Humala's political mentor.

Nobody expects Chávez to renounce his socialist revolution and grab a piece of this fertile middle ground. But doing so also remains an opportunity lost to Venezuela's opposition as elections loom in 2012. They are struggling to make a mark on domestic politics – playing any role in the new Latin American left seems a distant dream.

The opposition has delayed choosing a presidential candidate until primaries in February – a date criticised by many of their own as being too late and leaving little time for their candidate to build anything like the powerful personal recognition enjoyed by Chávez. Instead of throwing itself behind one front man, the opposition continues to dither and at this stage looks likely to concede another term in office to Chávez next year.

"The capital of Venezuela is Caracas, not Havana," said Omar Barbosa, an opposition politician. But on present form, the capital of Venezuela will continue to be Havana for the foreseeable future.