Chávez's stay in Cuba hospital leaves TV and revolution rudderless
| Jun. 23, 2011 |
Published by The Times //pdf1//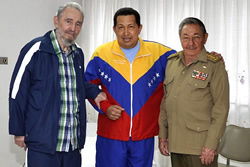 Photo: Girish Gupta
Switch on the television in Venezuela and, more often than not, the jolly face of President Chávez will be beaming back, holding forth on the ills of capitalism and bursting into song. Viewers have been left disappointed for the past ten days, however.

Mr Chávez, languishing in a Cuban hospital bed after an operation to remove a pelvic abscess, has been notably absent from TV and radio. He has not even updated his popular Twitter account.

Broadcasting networks in Venezuela, predominantly state-run, are scrambling to reschedule programmes. Some of the airtime usually assigned to Mr Chávez has been filled by the Vice-President, Elias Jaua, who recently appeared live from a socialist chocolate factory. However, Mr Jaua cannot sing and clearly lacks his mentor's talents in the field of entertainment.

Nor does Mr Jaua have any experience of running a country. The leader has made himself absent at a particularly inauspicious moment, fuelling criticism that the Chávez revolution, now in its 13th year, has run out of steam.

Just east of Caracas more than 5,000 troops are fighting to regain control of the El Rodeo prison, while family members wait desperately outside a 1km-wide cordon set up by the National Guard. The prison has been taken over by inmates armed with AK47s, M16s and hand grenades.

Officials have tried to be reassuring, saying that Mr Chávez is keeping abreast of developments in Venezuela and continuing to give orders from Cuba. In his one phone call to the Caracas-based television network Telesur last week, Mr Chávez insisted that he was perfectly able to govern from Havana, describing the Cuban capital as a "good place" to be ill.

Many citizens are unconvinced. Ignacio Avalos, a sociology professor at the Central University of Venezuela, said: "It's very unclear. As a Venezuelan, I would have bet my two kidneys that Chávez would have at least said something about what happened in El Rodeo prison."

Mr Chávez left Venezuela on June 5 for a tour taking in Brazil, Ecuador and Cuba. Since the official news about his operation, no more details have been given. Luis Vicente Leon, the head of the Datanalisis polling company, said that the secrecy was an attempt to preserve the President's image as an "invulnerable man".

"They are trying to pass off the problem as minor, that it hit him by chance while he was in Havana and that he can rule from Cuba for a while . . . This could be a way to set up a triumphal return. But Chávez has to reappear soon because otherwise it could prove dangerous to his image," he said.