Chavez's Absence Ignites Rumors in Venezuela About His Health
| Jun. 24, 2011 |
Published by PBS NewsHour

Larisa Epatko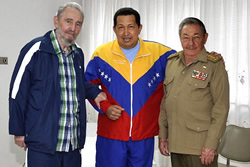 Photo: Girish Gupta
Venezuelan President Hugo Chavez, who normally makes daily television appearances and tweets all day long, has been noticeably quiet as he receives medical treatment in Cuba, fueling speculation about his true condition.

The last time Chavez spoke to the nation was on state television on June 12, when he told Venezuelans he was recovering from surgery for a pelvic abscess, which was not malignant, reported the Associated Press.

But as the days go on, and Venezuelans get little further information from Chavez or his government, people are speculating that his health might be worse than presented, and there are rumors of cancer or a case of liposuction gone wrong, said GlobalPost correspondent Girish Gupta in Venezuela.

The silence is a departure from what Venezuelans have come to know. Chavez is "a fantastic [public relations] man, and his government is not following that tactic, and this is very surprising to me and very worrying to Venezuelans," Gupta told us by phone from Caracas.

Chavez went on a tour of Brazil, Ecuador and Cuba, and remained in Cuba for the treatment. Local media began reporting on his condition, which is how Venezuelans got word that he was undergoing medical treatment, Gupta said.

"There are lots of rumors flying around at the moment, but one of the ones I've heard is that this whole tour was a guise just to get into Cuba for this treatment," he said.

Chavez, a man "perpetually on television," normally would be weighing in on the country's matters, including a major prison uprising in the outskirts of Caracas, said Gupta.

That Chavez is receiving medical care in Cuba, a country that takes pride in its health care system and exports many doctors, emphasizes the connection between the ideologies of the two countries and the "old guards" of the left—Chavez and Cuba's Fidel Castro, according to Gupta.

Chavez's absence could be viewed as an opportunity for the opposition—ahead of next year's presidential elections in December—to speak out against Venezuela's ties to Cuba, the state prison system, or other problems in the country, said Gupta.

But the opposition has been relatively quiet as well. "The opposition is very disbanded...and is not jumping on this as they could" in the lead-up to the elections, he said.

Chavez's older brother and state governor, Adan Chavez, said Wednesday his brother is expected to return home in 10 to 12 days.