Chávez in "critical condition"
| Jun. 26, 2011 |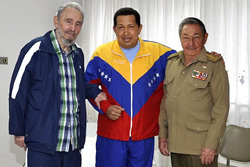 Photo: Girish Gupta
Speculation is growing in Venezuela on the health of its ubiquitous socialist president Hugo Chávez, after reports of his "critical condition" as he languishes in a Havana hospital recovering from a pelvic abscess operation earlier this month.

El Nuevo Herald, a Miami newspaper, has cited US intelligence sources suggesting that Chávez is in a "critical condition, not grave but critical and complicated".

The rumours are fuelled by the president's silence over the past two weeks. Only in the last few days has be begun to update his beloved Twitter account though he has not been heard or seen since 12th June when he spoke to a Caracas television network. Bedside pictures were released of the Venezuelan leader alongside Cuba's Fidel and Raúl Castro a few days later.

Contradictory statements from Venezuela's own government have done nothing to allay fears of something more serious such as cancer. Foreign minister Nicolas Maduro described Chávez's "great battle" for his health on Friday while other ministers denied the rumours point blank.

The news has inevitably led to talk of Chávez's successor, as elections loom next year. None of the socialist leader's inner circle, however, has the charisma that has kept Chávez in power for 13 years and there is no obvious candidate to continue the Bolivarian revolution.