Concern for Chávez as summit is cancelled
| Jun. 30, 2011 |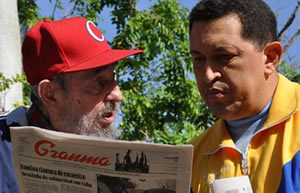 Photo: Girish Gupta
Published by The Times //pdf1//

The Venezuelan Government cancelled a major state summit last night, adding fuel to rumours that President Chávez is more seriously ill than has been made out.

Since Mr Chávez was admitted to hospital in Cuba on June 10, Caracas and the world community have been witnessing a growing vacuum of power in a country which faces tight elections next year.

Despite the broadcast of images on state television of President Chávez recovering from illness, which were released from Cuba yesterday, rumours persist that the socialist leader's health is worsening and that he is suffering from prostate cancer.

Last night's announcement of the cancellation of next week's Latin America summit gave further credence to the speculation. It is also unlikely that Mr Chávez will be present for next Tuesday's huge 200th anniversary independence celebrations in Caracas.

Mr Chávez's brother, Adán, has been boosting his own profile while hoping to fill the power vacuum, fuelling speculation that the President will be forced to hand over his leadership before the elections. After the primaries, it is widely expected that Henrique Capriles Radonski will become the main Opposition leader, and is well positioned to win at the polls.

Officially, Mr Chávez is recovering from a pelvic abscess operation earlier this month.

Mr Capriles has told The Times that he believes the situation is a political ploy to maximise sympathy for the President before a "triumphant return".

According to the Venezuelan constitution, the Vice President, Elías Jaua, should have taken power while Mr Chávez remains out of the country, but instead Adán Chávez has ramped up rhetoric. "It would be inexcusable to limit ourselves to only the electoral and not see other forms of struggle, including the armed struggle," he said, quoting Ché Guevara and reminding the President's supporters that taking up arms may be necessary to retain power should elections prove insufficient."

Adán Chávez is Governor of Barinas, a Chávez-stronghold in western Venezuela. His actions will draw immediate parallels with Cuba, where Raúl Castro took over from Fidel Castro in 2006 following the latter's illness.

Images broadcast yesterday from Havana show Mr Chávez clad in his infamous yellow, blue and red tracksuit that resembles his country's flag, alongside both Castros. The images offer proof of life but little else, stirring rumours and - claims Mr Capriles - shifting focus from Venezuela's real ills.

The charismatic and popular Mr Capriles is widely tipped to be Venezuela's next president should Mr Chávez fail to win the elections.

From a kitchen in the infamous Caracas barrio of Petare, he said: "The country's problems are not whether the President is or is not sick.

The problem is what is going on [in the prisons], the electrical problem and all the problems that every day we must solve for the Venezuelans."

Michael Shifter, president of the Inter-American Dialogue, added: "The country's problems are profound and, as long as [Chávez] remains in charge, do not seem to be reversible. Whatever health issues he has and how those might affect his image pale in comparison to the deterioration in the economy and security situation."

Mr Chávez, however, has a knack of riding out the storms, even when no end appears in sight. "Venezuelans are unhappy, but to date Mr Chávez has managed to escape much blame," said Mr Shifter. "After more than 12 years in office that is quite a testament to his political skills."

While not doubting that Mr Chávez is ill, Mr Capriles believes that the situation may be a political ploy to raise sympathy for the President in time for elections. "This is to generate controversy and a triumphant return," he said.

Not all in Venezuela are convinced that Mr Chávez is on his way out.

In a church just a block away from the presidential palace of Miraflores, worshippers pray for his good health while in lunchtime queues at socialist food outlets across the country, Chávistas confidently await the return of their "Comandante".

They will be keen to see him leading parades on Tuesday to celebrate the country's bicentenary. "It is absolutely crucial for Chávez to make that appearance while these power struggles are intensifying," says Reva Bhalla, an analyst at the intelligence firm Stratfor, who claims to have spoken with members of Mr Chávez's medical team in Cuba to confirm the prostate cancer rumour.