Chávez' supporters ask: How can our superman be ill?
| Jul. 1, 2011 |
Caracas, Venezuela
Published by Christian Science Monitor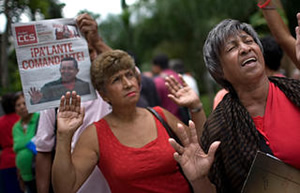 Photo: Girish Gupta
As Hugo Chávez graces the big screen in a rowdy city center bar in Caracas, Santiago Valledare stands up and salutes, with no hint of irony.

After a completely uncharacteristic three-week silence, his president is about to announce that he has received treatment for a tumor while in Cuba. After watching the president's subdued statement, Valledare stands firm: "My Comandante doesn't have cancer. It's not true," he says, still standing. "He is the best president we have ever had.... [He is] a strong man. He is not ill."

Other so-called Chavistas in the bar share similar sentiments. Nearby, workers paint a wall, having just watched the same 15-minute appearance. "This is a lie.... I don't know why he said it but it's not true," insists Luis, as he takes a break to discuss the news with colleagues.

To his supporters, Chávez is a larger than life figure, someone whose defiance of the US and preaching of social justice has transformed Venezuelan society. But his socialist revolution has been built around his popularity and personality, and there is no one on the horizon who could take his place, which could mean another radical political shift for Venezuela if his illness proves serious.

"For Chavistas it is very tough to accept that their supreme leader is no longer the strongman," suggests Michael Shifter, president of the Inter-American Dialogue. "His human frailties have been exposed. For his avid followers there is no one else, only Chávez."

Sympathy vote?

Some consider it a political ploy. "It draws sympathy," offers Julio Angola, an industrial designer in a more trendy bar just outside the city's center.

Accountant Freddy Herrera struggles to hide his delight at the next table. "It's perfect," he says with a smile. "[Venezuela] has struggled over the last 12 years and the revolution doesn't work because socialism is a lie."

"We're about to lose our president, which is huge," says Laura Gleeson, walking her Dachshund up the Ávila, the beautiful mountain that overlooks Caracas. But she says she is not a fan of either Chávez's ministers or opposition figures. "I don't like anybody. We don't have the right person right now."

"This is bad for the country," Ms. Gleeson says. "Maybe the opposition will think that this is the best way of getting rid of Chávez. But this isn't good for the country."

Boris Segura, economist at investment bank Nomura in New York, feels that the tide of the Bolivarian revolution that begun 13 years ago may be turning. "This situation is a game changer," he says. "I'm not saying that the opposition will win next year but it is more likely. There is no Chavismo without Chavez. This leaves the Chavistas confused. There will be a sympathy effect over the next few weeks and his popularity might go up... But is he going to be able to run next year?"

Mr. Shifter says a political shift may be in the offing. "Venezuela is likely to experience political turbulence. For all of Chávez's unpredictability, he managed to keep the country together and on course, however failed. His revolution has been stalled for some time. This is precisely the moment when Venezuela needs new leaders to emerge, both within the Chavez movement and the opposition."

Those leaders within Chávez's own party are beginning to come out of the woodwork, gaining the confidence they have lacked over the past three weeks. The opposition will also be looking at how to best play the news in preparation for the year ahead as elections loom.