Venezuela sets date for 2012 presidential election
| Sept. 13, 2011 |
Caracas, Venezuela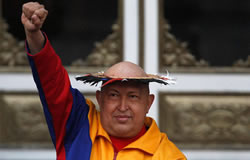 Photo: Girish Gupta
Published by Christian Science Monitor

Caracas, Venezuela—Venezuelan authorities have finally announced a date for next year's presidential elections, ending months of speculation and setting the stage for the first serious electoral challenge to President Hugo Chávez.

The vote is to be held on Oct. 7, 2012, when Mr. Chávez will stand head-to-head with the winner of opposition primaries set to take place on Feb. 12.

This gives the opposition a chance to campaign for their chosen candidate, most likely state governor Henrique Capriles Radonski. Mr. Capriles is the first Venezuelan politician to rival Chávez in the polls, thanks perhaps to a charisma that is on par with that of the socialist firebrand.

A Datanalisis poll released last week put the two head-to-head, Capriles with 36 percent support, compared to Chávez's 38 percent in a survey with a 3 percent margin of error.

There had been speculation that Chávez had ordered the election brought forward to March, in order to stifle any chance the opposition had of launching a successful campaign. Indeed, the date has been brought forward from the traditional December vote, likely for that same reason claim critics.

The date may also have been chosen in order to give Chávez a full year to recover from chemotherapy, the fourth round of which he announced today. "I have faith, my recovery is going well," he told state television. "After this chemotherapy, the last one God willing, I will undoubtedly start physical exercise."

There could be another twist in the tale this week, as the Inter-American Court of Human Rights (IACHR) announces its decision in the case of Leopoldo López, a popular former mayor. The Venezuelan government declared Mr. López inhabilitado – barred from standing for public office – on allegations of corruption, despite his never having been tried in court on the charges. López challenged the ban at the IACHR in 2008.

Like Capriles, López is popular and does not lack charisma. The IACHR is expected to rule in his favor, though there is little hope that Chávez will overturn his government's decision. If the president did choose to allow López to stand, however, he may be doing himself a favor. Both López and Capriles competing for the vote could split an already fragmented opposition just as Chávez ramps up his own campaign, in the wake – he hopes – of a successful recovery from cancer.