Hugo Chávez tries to silence health rumors with his usual flair
| Sept. 30, 2011 |
Caracas, Venezuela
Published by Christian Science Monitor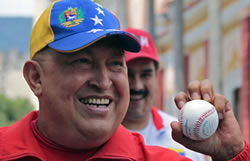 Photo: Girish Gupta
Caracas, Venezuela—As rumors circulated all over the Internet that Venezuelan President Hugo Chávez had been rushed to the hospital with kidney failure, the great PR man had the world's press in the palm of his baseball glove at his Miraflores presidential palace.

While his other hand theatrically threw a baseball up and down, President Chávez read out every word of an El Nuevo Herald article that the previous night had suggested he was on his last legs.

"We must stop the speculation," Chávez said, clad in a red tracksuit as he then tossed the ball back and forth with aides. "It is morbid and inhumane."

The indefatigable leader then spoke for more than two hours on the country's border dispute with Guyana, the release of US hostages in Iran – thanks of course to his sway, he reminded – as well as on the bad reporting that had fed the piece that brought the press there in the first place.

It was a highly orchestrated show that will likely play out in coming months, as Chávez's health remains in question and Venezuela contemplates a future without him. Love him or hate him, Chávez has been the face of the country for 12 years and he is seeking to keep it that way as the country heads into presidential elections in October.

This year, the opposition actually stands a chance. His toughest rival so far is charismatic state-governor Henrique Capriles Radonski who is winning support against chavismo as Venezuelans become disaffected with some of the world's highest crime figures, an economy on its knees – saved only from collapse by high oil prices – and day-to-day problems such as electricity shortages.

The El Nuevo Herald article, published Wednesday, was not the first of its kind. The Miami-based paper had made similar claims about the health of both Chávez and former Cuban President Fidel Castro.

A defiant Chávez sought to take control. "Those who don't love me and wish me ill, well bad luck!" he said in an early morning phone call to state television. Journalists in Caracas then received an email summoning them to Miraflores immediately.

Chávez was jovial when he spoke on his own terms but appeared agitated when reporters asked for more details on his health.

"What is it you want?" Chávez shouted at the assembled press, pausing for effect before asking the journalists if they would be asking the same questions of their family or friends.

Whether he likes it or not, Chávez's health – like that of his mentor in Cuba – will continue to be the subject of speculation as elections loom. This is only exacerbated by his unwillingness to reveal more details and his erratic public appearances.