Chavez on death of Gaddafi, a "martyr"
| Oct. 20, 2011 |
Caracas, Venezuela
Published by GlobalPost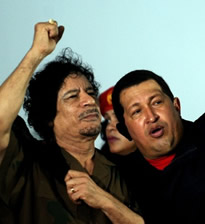 Photo: Girish Gupta
CARACAS, Venezuela — One of Muammar al Gaddafi's few friends on the international stage has said that the former Libyan leader will be remembered "as a great fighter, a revolutionary and martyr."

Venezuelan president Hugo Chavez described the killing of Gaddafi as a "murder," before slamming the U.S. and its allies. "The story in Libya is just beginning," Chávez said. "The Yankee empire cannot master the world. The worst thing is that in their efforts to dominate the world, the empire and its allies are burning."

Chavez arrived back in Venezuela today after medical tests in Cuba, which he claims have given him the all clear. "I am free of illness," the president confidently declared. "Chavez is back!"

That Chavez of old will be looking forward to presidential elections next October and his rhetoric will no doubt return to its previous magnificence. Just today, on a pilgrimage to a Catholic shrine, Chavez said: "It would be easier for a donkey to pass through the eye of a needle than for the opposition to win the elections."

The ramped up bullish rhetoric will also continue in an anti-American vein. Chavez was a great friend to Gaddafi when most of the world ostracized the Libyan leader. He has spoken out against U.S. involvement in the African country in the past, denouncing the rebels as "terrorists" and describing Gaddafi as the "liberator of Libya."

Chavez has also said that he believes that NATO's sole aim in bombing the country was to seize its oil wealth. "It's the excuse to intervene and seize a country and its riches," Chavez said. "We know what is going to happen: bombs, bombs, war, more suffering for the people. This is the hand of capitalism," adding that US "care nothing about the lives of the Libyan people."

Sitting on the world's biggest oil reserves himself, Chavez has expressed concern that Venezuela may be next. "They better not attempt to apply the Libyan formula to Venezuela or we'll have to show them our power."