Chavez takeover plan triggers fears in Caribbean islands
| Oct. 25, 2011 |
Los Roques, Venezuela
Published by Reuters (en español)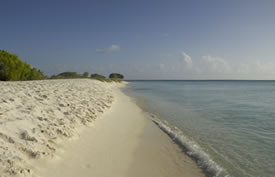 Photo: Girish Gupta
Los Roques, Venezuela - Luxury yachts weigh anchor in pristine turquoise bays and small boats carry wealthy families with deck chairs and picnic baskets through the waves to the white sands of Francisqui Island.

The idyllic Los Roques off Venezuela's Caribbean coast were once a hide-out for pirates. They now draw tens of thousands of well-off tourists a year with their palm-lined bays, coral reefs and waters ideal for scuba diving, sport fishing and sailing.

But the archipelago, a national park, could soon lose its exclusive feel as President Hugo Chavez plans to bring his self-declared socialist revolution to the islands.

He says the rich have monopolized them and he wants to take them back for ordinary Venezuelans, as well as some of the yachts.

"I've always said we should nationalize Los Roques," the former soldier said in a speech this month on state television. "They privatized it, so to speak, the high bourgeoisie, including the international set."

Mr. Chavez, who is seeking another six-year term at an election next October, has nationalized much of the South American nation's economy since coming to power in 1999.

That has delighted his core supporters among Venezuela's poor, and they may now get much easier access to the isolated and beautiful retreat of Los Roques.

The 30-minute flight to the islands from the capital Caracas costs about $400, way out of reach for many in a country who face low wages and one of the highest inflation rates in the world. Even if they could get here, the small hotels, or posadas, are also expensive.

It's not a favoured haunt of global celebrities and their paparazzi hunters, more of a quiet escape where holidaymakers enjoy peace and quiet in basic but comfortable surroundings.

The government has yet to lay out plans for exactly how to increase access for low-income families, but Mr. Chavez mentioned seizing the yachts of what he called "fugitive bankers," which could then be used to ferry tourists from the mainland.

In contrast to Los Roques, much of Venezuela's coastline has suffered from mass tourism. Beer cans litter many beaches near Caracas, and a raucous mix of pop and reggae music blares from cars parked on the sand.

Gran Roque is the main island on the archipelago, and there are only one or two vehicles on it. Porters from its small posadas, many of them Italian-owned, carry tourists' luggage down quiet sandy lanes from a small seaside landing strip where planes from the mainland taxi past swish private jets.

"I feel the owners are scared," said the manager of one posada on Gran Roque, who asked not to be named. Others also express concerns, but decline to be identified for fear of being targeted by the government.

Los Roques were uninhabited until the 15th century when they became one of many hide-outs for the pirates who plundered the Caribbean. Early in the 20th century, Venezuelan fishermen migrated from the more developed tourist island of Margarita.

Not everyone here is opposed to the president's policy.

Magalis Rodriguez, a 59-year-old Venezuelan, has lived on Gran Roque for more than 40 years since moving from Margarita. She is a proud supporter of Mr. Chavez and her posada sports a big mural of the "Comandante."

"I have great confidence in President Chavez," she says. "He is the only president who has put Los Roques under a magnifying glass."

Many on the island believe the real targets of Mr. Chavez's vitriol are Venezuela's wealthiest businessmen, some of whom own holiday homes on the tiny island of Madrisqui, a two-minute boat ride from Gran Roque.

Rumours have spread that panicked owners are removing property from the secluded, luxury houses there for fear of expropriation by the authorities in the coming weeks.