Chávez Goes After the Islands of Venezuela's Rich — and Their Yachts
| Nov. 1, 2011 |
Los Roques, Venezuela


Published by TIME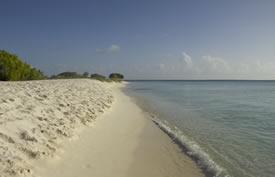 Photo: Girish Gupta
Near a sand bank tailing from the whites beaches of Francisqui Island, just off Venezuela's Caribbean coast, Caracas factory owner Javier Alvarez dives into the warm, azure water. Close by is his 74-foot Hatteras yacht, one of the many luxury vessels moored in and around the resort archipelago of Los Roques, where much of the country's elite own houses. But this personal paradise may soon be ending. President Hugo Chávez announced earlier this month he'd like to expropriate much of Los Roques' private property for state tourism — including yachts like Alvarez's, which el presidente says would be better used for ferrying visitors. "Expropriating a boat is completely absurd," says Alvarez, 39. "I don't see how they can take away something you've worked hard for and bought."

Actually, Chávez has made it look pretty easy during his 12 years in power. His socialist Bolivarian Revolution has nationalized and expropriated everything from utilities to ranches to golf courses — and with his re-election bid approaching next year, seizing a Shangri-la of the rich would help galvanize his populist base. "I've always said we should nationalize Los Roques," Chávez, who revealed this past summer that he is battling cancer, told state television in a phone call earlier this month while denouncing the "high bourgeoisie" and "international set" that frequent the islands.

But while spoiling the high life of los ricos might sound appealing to his supporters, environmentalists fear the President's plan could instead spoil Los Roques. Lying just north of Venezuela's central coast, the islands constitute one of the Caribbean's most gorgeous natural treasures — and one of the most fragile. Their crystal-clear waters attract divers from around the world, and their sugar-white sands lie in stark contrast to much of the rest of Venezuela's beach tracts, which these days are all too often better known for discarded beer cans and reggaeton music blaring from cars. "At the moment, the regulation [protecting Los Roques] is money," says German tourist Katrin Bender, 29, soaking up sun on Francisqui. "If Chávez takes that away, you need a different way of controlling the [human] numbers" that would pour in.

Armando Loynaz, a property administrator on the ultra-exclusive Madrisqui Island, agrees. "The primary concern is mass tourism," he says. "The environmental issues that are going to arise are huge." One of the big concerns is the potential loss of Los Roques' unique marine life, including its precious corals, which are already under assault from global warming. "You see things here that you don't see in other places," says one tour operator. "It's a beautiful place, but we need to be careful." It was due to that "fragility," says former Tourism Minister Diego Arria, that Los Roques was made a national park in 1972, to protect it from developers.

But Chavistas argue that precisely because Los Roques is a national jewel, it should be accessible to more than just the jet-set. For that reason, Chávez supporter Magalis Rodríguez, 59, owner of a Los Roques posada, or inn, keeps her room rates more affordable than most on the island chain. Chávez, she says, "is the only president who has put Los Roques under a magnifying glass." Chávez backers also feel the rich are playing the eco-card more out of convenience than conviction, and they argue that if done right, more Venezuelans can enjoy Los Roques' beauty without trashing it. They point to the island of Gran Roque, the center of the archipelago's tourism infrastructure, where a landing strip littered with small planes belonging to wealthy visitors could, they contend, be opened up to broader traffic in an enviro-friendly manner.

But for the moment, the public's focus is on the class warfare battle brewing in Los Roques' waters, whose temperatures are a consistent 25 to 30 degress Celsius (86 Fahrenheit). Political observers say the real targets of Chávez's vitriol are the millionaire businessmen who own property on islands like Madrisqui, a two-minute boat ride from Gran Roque. Venezuelan moguls like Gustavo Cisneros, one of the world's richest persons, have holiday homes there — and rumors abound that many of its houses have been emptied of their contents in an attempt at salvaging possessions before expropriations start. (Locals like Loynaz insist it's not true.)

Elsewhere, the owners of more upscale posadas, many of them Italians, "are scared," says one inn manager, who asked not to be named for fear of reprisal. They are also, he says, making doubly sure their immigration papers are in order so the government has no excuse to come down on them. Inn owners whom TIME spoke with echoed the manager's sentiments, but they refused to talk on the record to avoid being targeted.

Chávez's expropriation mania carries economic as well as ecological risks. Wealth inequality was appalling in Venezuela before he took office in 1999 — despite possessing the western hemisphere's largest oil reserves, more than half the country's population lived in poverty — and his redistributive agenda has improved the situation. But much of the economy has been mismanaged: Venezuela has Latin America's highest inflation rate, and food shortages are not uncommon.

Arria, whose ranch was confiscated by authorities under a policy targeting lands deemed "idle," points out that because Chávez has expropriated 450 companies alone this year, international businesses increasingly shun the country. "The policy is just to try to hurt the rich," says Arria, "but it's actually hurting the people who work for the rich." What's more, the compensation those companies are owed is beginning to drain Venezuela's state coffers — especially as Chávez plans to boost social spending by almost 50% next year in time for the October election.

Chávez, who won each of his past presidential elections by a landslide, could face a genuine challenge this time. You can call a Los Roques nationalization hurting the plutocrats or helping the people, but political expediency may well prove more urgent than a Caribbean idyll.