Hugo Chávez's daughter poses with US dollars
| Jan. 26, 2012 |
Caracas, Venezuela
Published by GlobalPost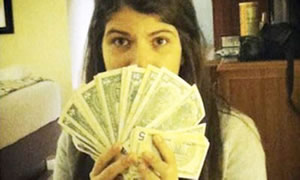 Photo: Girish Gupta
A picture of Venezuelan President Hugo Chávez's teenage daughter fanning out US dollar bills has appeared on the Instagram website, focusing attention on her father's controversial economic policies which have led to a shortage of greenbacks back home.

Foreign currency in Venezuela is extremely scarce thanks to currency controls that limit individual exchange to just $3,000 per year. The policy was brought in nine years ago in order to clamp down on capital flight but has instead forced a black market which often sees trade at between 8 and 9 Bolívares Fuertes (BsF) to the dollar rather than 4.3 BsF — the fixed rate.

Venezuelans therefore must either forego foreign holidays and business trips costing more than $3,000 or buy dollars at the black market rate and lose half of their cash to the unfavorable exchange rate.

Cadivi is the government agency responsible for official exchange and is often criticised for corruption, whereby those who know the right people can go over their annual limit of dollar purchases.

The 14-year-old Rosinés Chávez Rodríguez flaunts the notes in front of her face in a picture most likely taken on an Apple product such as an iPhone or iPad. Marisabel Rodríguez, Rosinés' mother, now divorced from the president, defended her daughter's actions on Twitter. "The mistake wasn't to take the picture," she wrote, "but to post it on a medium where there are ignorant people."

The black market is favorable to those living in Venezuela paid in foreign currency. They often take advantage of the parallel rate to buy local currency at the inflated rate of between 8 and 9 BsF to the dollar. International purchases — flights, for example — bought with local currency on the black market are therefore roughly half price.