Armed children for Chavez in Venezuela?
| Jan. 30, 2012 |
Caracas, Venezuela
Published by GlobalPost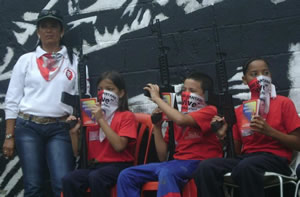 Photo: Girish Gupta
Photographs of young children brandishing assault rifles in front of a mural of an armed Jesus Christ taken in a Caracas barrio have caused outrage in Venezuela.

The pictures appear to have been taken in the 23 de enero barrio, a Chávez stronghold in the west of the capital city. With their faces covered in revolutionary scarves, three children all aged under ten sit with the weapons, while a woman looks on.

The Facebook group where the pictures originally appeared is run by La Piedrita, a so-called collective, one of a number of militias based in the slums alleged by critics to be armed by the Venezuelan government.

Interior Minister Tareck El Asissami described the images as "reprehensible," while some in the opposition have jumped on the opportunity to condemn the government.

Pablo Pérez, a potential presidential candidate for October's election, said during a campaign tour: "Instead of guns, these children should have a computer, a book, a bat, a ball, a glove or a musical instrument."

Rival Diego Arria, a strong opponent of Chávez, tweeted: "The regime condemns the photos of armed children just because they've been discovered," adding that they were armed and trained according to President Hugo Chávez's ideals.

Presidential elections are due in October and for the first time, the opposition are beginning to unite to put up a challenge to Chávez. There are long-held fears that militias in some of the city's barrios are being armed by the government in order to rise up should Chávez lose.

These fears were stoked by the induction of Henry Rangel Silva as defence minister earlier this month. Rangel stated last year that the Venezuelan military was "absolutely loyal" to Chávez and is alleged to be linked to leftist rebels the Revolutionary Armed Forces of Colombia (FARC).

Read more: Chavez swears in controversial defense minister

The president stated in a marathon 10-hour speech earlier this month that he would honor election results, adding that he wanted to show off Venezuela's "political maturity."

Read more: Chavez's 10-hour speech: I'll honor election results

Venezuelan authorities have said that they are investigating.