Opposition rallies to challenge Chavez
| Feb. 10, 2012 |
Caracas, Venezuela
Published by USA Today //pdf1//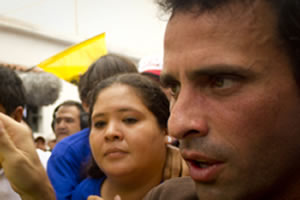 Photo: Girish Gupta
A student at Andrés Bello Catholic University, Yesman Utrera climbs down a steep, shoddy staircase in between jaunty houses built on the hillside of his barrio and complains of the unfulfilled promises of the man he once admired.

"Young people are always talking about revolution, changing the world, taking the system down," says Utrera, 24, who is studying English. "Hugo Chávez represented all that."

Utrera supported Chávez when he was first elected president in 1998 and began his "Bolivarian Revolution" to remake Venezuela by turning it more toward the policies of Cuba's Fidel Castro and away from Western capitalism. Leftists cheered as he castigated the United States, and many believed his path to be the answer to Latin America's poor.

"People believe that Chávez is their Jesus Christ and he came to save us all," Utrera says, "but it's not like that."

'Social programs aren't enough'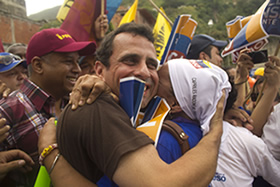 Photo: Girish Gupta
For the first time in Chávez's tenure, a historically disjointed opposition has begun to unite, and Sunday, it will pick its candidate to face Chávez in October's presidential election.

The front-runner, Henrique Capriles Radonski, 39, beat a Chávez ally in 2008 for the governorship of the state of Miranda.

In previous elections, the opposition has attacked Chávez for his leftism and repression of democratic and economic freedoms.

Capriles says he understands why many Venezuelans are attracted to Chávez's beliefs. "We have to fight against poverty," he told USA TODAY, but "social programs aren't enough."

On Chávez's animosity toward the United States, Capriles says he would like to have better relations with America, "but a relationship of respect."

Thirteen years after Chávez embarked on his socialist revolution, oil-rich Venezuela is a mess in many ways.

Food shortages are not uncommon amid Chávez's attempts to fix prices. Electricity is rationed. Venezuela has one of the highest murder rates in the world, and drug violence is rising.

The production of crude oil has fallen since Chávez ordered a complete takeover of the industry by the state.

The country's inflation rate is 26%, the highest in the Americas.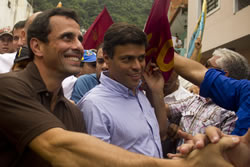 Photo: Girish Gupta
Capriles has spent years courting the country's poor, first as a mayor, then as a governor, often riding in on his motorbike and playing basketball with locals.

At a recent rally in Maiquetía, a coastal slum about an hour from Caracas, Capriles struggled to walk down the dusty paths as thousands of supporters crowded in.

"We're here to build a change," he says. "We are going to translate resources into concrete deeds."

Despite shows of support, Capriles will find Chávez a tough opponent. While world oil prices hover around $110 per barrel, Chávez is able to channel considerable funds toward social programs for the poor that will probably translate into votes.

Carlos Romero, a political analyst at the Central University of Venezuela, says Chávez has shielded the poor from the annual 30% rise in prices that has bedeviled the middle class through hefty government subsidies.

Chávez spends public money lavishly during an election season.

"Maybe in our (middle-class) area, people complain about inflation," Romero says. "Chávez has a plate of money. The social policies are working."

Chávez enjoys greater support in the country's barrios, where he has built health clinics and schools and shipped food.

Gloria Torres organized prayer ceremonies for him when he was treated for cancer.

"We follow Chávez for his immense human qualities," says Torres in the Petare slum.

Helping the poor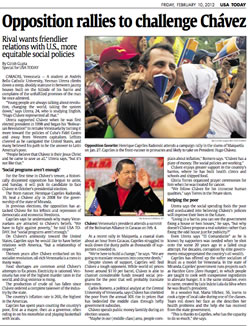 Photo: Girish Gupta
Utrera says the social spending fools the poor and uneducated into believing Chávez's policies will improve their lives in the future.

"Living in a barrio, you can see the government fixing a house or two houses," he says, "but why doesn't Chávez propose a real solution rather than fixing the odd house just for publicity?"

Even Utrera says "El Comandante" as he is known by supporters was needed when he shot onto the scene 20 years ago in a failed coup attempt. For decades, corruption by elite governments misappropriated the country's oil wealth.

Capriles has offered up the softer socialism of Brazil as a model for Venezuela. In the state of Miranda, Capriles' government runs projects such as Hambre Cero (Zero Hunger), in which people are taught to cook with inexpensive ingredients to alleviate hunger. It is the same initiative, even in name, created by Luiz Inácio Lula da Silva when he was Brazil's president.

In a wooden hut , Maria Vilchez, 56, learns to cook a type of local cake during one of the classes. Tears roll down her face as she describes her health problems and the help she has received from the state government.

"This is thanks to Capriles, who has the capacity to do so much," she says.