Pope to meet the Castros but shuns Cuban dissidents
| Mar. 25, 2012 |
Havana, Cuba
Published by Sunday Times //pdf1//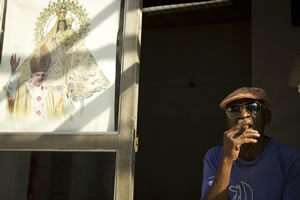 Photo: Girish Gupta
When Pope Benedict XVI arrives in Cuba for a two-day visit tomorrow, he will be assured of a respectful welcome from the last bastion of Communism in the Americas despite his call for the island to replace Marxism.

As he flew to start his American visit in Mexico last Friday, Benedict said the Catholic Church was ready to help Cuba find new ways of moving forward "without trauma".

However, he will walk into a row over the church's reluctance to embrace the dissidents who are challenging the Castro brothers' grip on the island.

Fourteen years after a visit by Pope John Paul II thrilled Cuba's Catholics and promised a new age of religious tolerance, human rights advocates have been saddened by another crackdown on dissenters, who are stunned that Benedict appears to be avoiding them.

From the protesters known as Las Damas de Blanco (the Ladies in White) to former political prisoners and exiled activists, Cuba's opposition had been looking forward to the visit as a chance to highlight resistance to 85-year-old Fidel Castro, and the slow pace of change introduced by his younger brother, Raul, who became president in 2008.

Told of the Pope's comments, Bruno Rodriguez, Cuba's foreign minister, said: "We will listen with all respect to His Holiness." Yet Cuba's determination to turn the visit into a propaganda boost has raised awkward questions about the church's relations with the regime.

After a wave of arrests aroused international indignation last week, several dissidents said they had been warned to stay away from papal ceremonies. "The government is preparing a grand theatre," said Oswaldo Paya, an activist once nominated for the Nobel peace prize. "State security is visiting dissidents to prevent them from going to see the Pope," he added.

Berta Soler, leader of the Ladies in White, said at least 70 members of her group, which protests on behalf of political prisoners, had been arrested. All were later released, but Soler said she had been horrified to learn that the 84-year-old Pope might meet Fidel Castro — whose health is uncertain — but did not have time to meet activists.

"We only want one minute to communicate with him," Soler said. "We are marginalised, oppressed and the church must hear and protect us."

Foreign activists joined the outcry, among them Lech Walesa, the former Polish president, who wrote: "I implore Your Holiness to defend prisoners of conscience."

The Castro regime has dismissed the fuss as "subversive efforts" by "tiny counter-revolutionary groups ... funded by the Miami anti-Cuba mafia". The Communist party paper, Granma, dismissed the Ladies in White as "mercenaries of the empire" [America].

Vatican officials rejected accusations that Benedict was falling into a propaganda trap.

Activists agree that the church has become a force in a state that once declared itself atheist, but question the Vatican's caution. Earlier this month, 13 opposition figures occupied a Havana church. The island's cardinal, Jaime Ortega, called in police to evict them.

Ortega has been praised for building bridges to Raul Castro and other reform-minded officials but his reluctance to confront the regime has left some wondering whose side he is on. He led prayers for Hugo Chavez, the Venezuelan strongman who has been treated for cancer in Havana, but resisted calls for services honouring dissidents.

Congresswoman Ileana Ros-Lehtinen, the Havana-born chairwoman of the House foreign affairs committee in Washington, described the crackdown as "shameful" and urged the church "to publicly support peaceful opposition, and not deny them sanctuary".

The Pope is expected to draw at least 350,000 people to an outdoor mass in Mexico City today and speak out against the country's drug war, which has killed 47,000 people.