Pope in Cuba: Will he raise case of jailed American?
| Mar. 27, 2012 |
Havana, Cuba
Published by Christian Science Monitor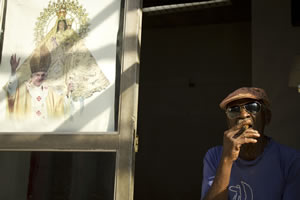 Photo: Girish Gupta
Washington will be watching Cuba carefully this week, as Pope Benedict XVI walks a diplomatic tightrope between his church, the government-proclaimed atheist Cuban state, and dissidents on the island. The Catholic Church has already described the US embargo as useless and Washington will be keen for attention to be deflected away from US policy on Cuba.

Diplomats will also be watching for any mention of Alan Gross, a subcontractor for the United States Agency for International Development arrested here in December 2009, accused of spying. His wife, Judy Gross, has called for the pope to help at least allow her husband to travel to the United States to visit his elderly mother, who is suffering from inoperable lung cancer.

Ultimately, she would like his release from prison, and return to the United States. "I have one hope left, and that's, of course, the pope," she told The Washington Post. "If that doesn't work, I think he'll probably die in Cuban prison."

The Cuban government accused Mr. Gross of attempting to "destroy the revolution through the use of communications systems out of the control of authorities," according to a Cuban court statement. He entered Cuba on a tourist visa and was caught with a satellite phone. Gross said he was trying to help the country's Jewish community find better access to the internet.

Havana is keen to use Gross as a bargaining chip in return for the Cuban Five, whose faces adorn billboards here in Havana. They were arrested by US authorities in 1998 and convicted in 2001 for spying on anti-Castro exiles in Miami.

The pope has an incredibly difficult task ahead of him as he lands in Havana today from the eastern city of Santiago. He said last week during his visit to Mexico that the "Marxist ideology" in Cuba "no longer corresponds to reality." However, Benedict XVI has refused to meet with dissidents. It is unlikely he will want to mention Gross, or even allude to him, given the already delicate situation the pope faces in Cuba.

Later today, the pope will fly to Havana to meet President Raul Castro. There is much speculation as to whether older brother Fidel Castro will speak with the pope as well. The former president was excommunicated from the Catholic Church in 1962 by Pope John XXIII, after the 1959 Revolution expelled priests and
nuns, seized church property, and banned religious believers from the Communist party. In 1976, Cuba declared itself an atheist state and only reinstated Christmas as a national holiday in preparation for Pope John Paul II's visit in 1998.

Venezuelan President Hugo Chavez is also in Cuba this week for radiotherapy. He has invoked Jesus Christ and the Catholic Church throughout his presidency and will no doubt be eager for a photo opportunity with the pope.