Why the big mausoleum, Mr. Chavez?
| Jun. 9, 2012 |
Caracas, Venezuela
Published by GlobalPost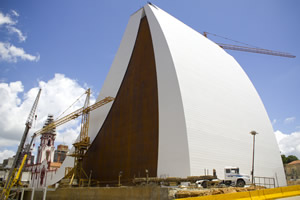 Photo: Girish Gupta
A crane hovers over the latest addition to Caracas' skyline, casting a shadow over a sector of the city that houses the presidential palace, the national pantheon and a military barracks where President Hugo Chavez was imprisoned after his failed coup attempt in 1992.

Its slim shadow falls on a 170-foot-high brilliant white structure, shaped like a ramp leading to a convex wall. It's as anomalous to Caracas' worn-out skyline as some would say the country's president is to Latin America's politics.

The $130 million mausoleum is a tribute to Simon Bolivar, a larger-than-life historic figure revered across the continent for his role in liberating Venezuela, Colombia, Ecuador, Peru and Bolivia. The building was ordered by President Chavez and the liberator's bones are to be moved from the nearby pantheon to the new site this weekend.

However, given Chavez's bout with cancer and the prospect of his 13-year tenure coming to an end, critics have suggested that the mausoleum may in fact be a self-dedication, one step further than the Ataturk Mausoleum in Turkey and Lenin's tomb in Moscow's Red Square.

"It's Chavez's future mausoleum," said Jose Jimenez, a 42-year-old accountancy teacher at a local university. "They are pushing for his remains to lie next to Bolivar, to put Chavez's legacy next to that of Bolivar."

Government officials have not commented on such speculation.

Chavez faces his toughest presidential elections yet this October and analysts say he will be keen to play on his own legacy while also mirroring it with the legacy's of Venezuela's heroes.

Gustavo Izaguirre, director of the school of architecture at Caracas' Central University of Venezuela, believes that the mausoleum is undoubtedly a political monument that "manipulates the figure of Bolivar."

"The government, for reasons they haven't fully explained, have constructed this mausoleum for Bolivar and of course there's much controversy," said Izaguirre. "It's very disproportionate and lacks any semblance of sobriety."

The cost of the project has ballooned since its inception. Last month Chavez announced a further $51.7 million to the already-budgeted $78 million. This in a country that is plagued by crime and poverty, though has the roughly-$100-a-barrel price for its oil to thank for keeping the economy off its knees.

Chavez's reverence for Bolivar has become obsessive since he delved into the life of the independence hero's exploits while at the military academy, which launched his own interest in politics. Chavez would reportedly study late into the night, and was occasionally found asleep on a desk with his head in a book reading about Bolivar.

Plazas featuring Bolivar's statue are the centerpiece of every Venezuelan city. The socialist leader's speeches — which often run for hours, notably on "Alo Presidente!," the president's weekly chat show — are littered with references to him. Venezuela officially changed its name to the "Bolivarian Republic of Venezuela" when Chavez came to power in 1999.

"There's a tradition in Venezuela of governments using Bolivar for their own political gain and Chavez has certainly done this, modeling himself as a messianic continuation of Bolivar," said Alberto Barrera Tyszka, co-author of "Sin Uniforme" ("Without Uniform"), which has become a definitive biography of the president. "The mausoleum is part of this strategy."

Bolivar's quixotic life made him the target of a number of assassination attempts while leading some incredibly audacious military campaigns in order to free Latin America from Spanish rule. In one, more than 2,000 men were marched across the ice-cold Andean mountains to launch an attack on troops in Colombia. Despite his success in liberating the continent, and numerous attempts to crown him an emperor of the newly formed Gran Colombia, Bolivar's life struggle turned to a farce as infighting began. He died poor and lonely, reportedly of tuberculosis.

However, Chavez is not convinced by that ending. At the president's behest, in 2010, forensic specialists exhumed Bolivar's body in a grand fanfare. Unhappy with the traditionally held view that a disease took his hero's life, Chavez hoped that the scientists would prove that Bolivar was in fact killed by Colombian oligarchs, in line with his anti-elitist narrative.

"We could not establish the death was by non-natural means or by intentional poisoning. Nobody who says [Bolivar was murdered] would be able to prove it," said Vice President Elias Jaua, in a ceremony aired across Venezuela a year later in June 2011.

Opposition leaders lambasted Chavez for spending the money to carry out the year-long investigation when Venezuela is suffering inflation, electricity woes and crime. Some critics have gone so far to say that Chavez's recent illness is a curse bestowed upon him for opening Bolivar's casket in the first place.

Those opponents might find satisfaction in the forensic results. But the president is not backing down, at least not for now. "I think they murdered him," he said. "I don't have proof, I don't know if we will, but those are the circumstances."

Despite repeated requests, Minister for the Revolutionary Transformation of Caracas Francisco Sesto, who is in charge of the mausoleum, refused to be interviewed for this article, after reportedly being disappointed with press coverage of the project.

In the shadow of the mausoleum in central Caracas, a less wealthy area of town, Venezuelans are less critical. Defending its huge scale, businessman Edgar Aragol, 48, said: "He did so much, freed five Latin American countries. There's nothing comparable to what he did."