Venezuelan opposition protests ailing Chávez's absence
| Jan. 12, 2013 |
Caracas, Venezuela
Published by USA Today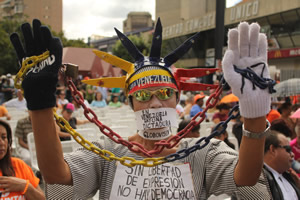 Photo: Girish Gupta
Venezuelan President Hugo Chávez's no-show at his inauguration fueled a protest Saturday after opposition leaders said the decision invalidated the ailing leader's new six-year term.

"We have no president right now," said Mary Para, a 55-year-old teacher attending the protest. "We don't know if Chávez is dead or alive. In his place we have a man who was chosen by nobody. ... We're here fighting for the constitution."

The lack of any proof of life from Chávez, as well as his naming of Vice President Nicolas Maduro as his successor, is raising concerns that Chávez's 14-year tenure in Venezuela may be coming to an end.

"They ought to send a medical board to Havana to confirm whether Chávez is able to govern this country," said Daniella Contreras, a 22-year-old student at the back of the crowd.

The opposition is calling for elections to be held within 30 days, as decreed by the constitution, but Maduro has called the Jan. 10 inauguration date a "formality." That view was backed by the country's Supreme Court earlier this week in a ruling that opponents say will be challenged in a regional human rights court.

The case is being prepared by a group of lawyers for the opposition coalition, said Gerardo Blyde, a lawyer and opposition politician. He said Saturday that it's not yet clear when the case would be brought before the Costa Rica-based Inter-American Court of Human Rights.

Demonstrations could be held again on Jan. 23, when the opposition is planning to take to the streets on the anniversary of the fall of the country's last dictator, Marcos Pérez Jiménez, in 1958.

"I don't know who the president is right now," said Roberto Rodriguez, 49, a street cleaner watching from the back of the square. "Things need to change."

The self-styled socialist has not been heard from since Dec. 11, when he went through a fourth operation in Havana, Cuba, to treat the cancer that has plagued him for more than 18 months.

The six-hour operation was followed by unexpected bleeding and a pulmonary infection, according to a tight-lipped government that has failed to reveal the type of cancer the 58-year-old president has.

Should Chávez die or be permanently unable to take power, Maduro would face off with an opposition candidate, likely Henrique Capriles Radonski, the 40-year-old governor who lost to Chávez in October's presidential elections.

Capriles has been fairly moderate in his criticism of the government, keen not to alienate Chávez supporters should he have the chance to run again. However, his running mate Leopoldo López spoke to the crowd in Caracas' Plaza Brión.

"We won't remain passive," López shouted to the crowd. "We'll go out into the streets and we'll stay in the streets."

The opposition protest was dwarfed by Thursday's inauguration celebrations in which tens of thousands of red-clad Chávez supporters turned up outside Caracas' Miraflores presidential palace.