Blogger gets whiff of Cuba libre as curbs on leaving island are eased
| Jan. 13, 2013 |
Havana, Cuba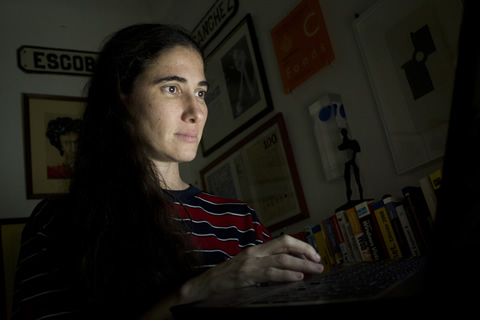 Photo: Girish Gupta

Published by Sunday Times //pdf1//
Audio featured on RTÉ World Report




From her flat overlooking Havana, Yoani Sanchez expresses her opposition to the Castro government in a blog that has won widespread acclaim, a risky enterprise on the tightly run island of Cuba.

Despite a string of awards that have brought her recognition abroad, Sanchez, 37, has not been allowed to travel overseas.

A strict policy has made it difficult for Cubans to leave the island for as long as anyone can remember.

A law due to come into force tomorrow, however, will scrap the need for an expensive exit visa. Ordinary Cubans will now be able to travel freely with just a passport.

Sanchez's hopes are rising that one day even she may be allowed to leave the island. "We've been waiting for this reform for years," she said. We're so pleased."

Regulations were put in place in 1961 to prevent an exodus two years after the revolution led by Fidel Castro, now 86 and suffering severe health problems.

The ingenuity of Cubans in crossing the Straits of Florida, a 90-mile journey across sharkinfested waters to America, reflects their determination to be free. Images of cars on the water with empty oil drums attached as floats have circulated since the crackdown was introduced.

The reform means that Cubans will no longer have to apply for an exit visa or show a letter of invitation from abroad.

"I'd love to see more of the world," said Danis Montero Ascanio, 26, an artist in the faded, crumbling streets of old Havana. "I hope I can. I live a correct life with no political problems, so why not?" Dissidents such as Sanchez, and professionals such as scientists and engineers, will still face travel restrictions in order to preserve the "human capital created by the revolution from the theft of talent by powerful nations", according to the law.

"National security" is another caveat that the government can use to prevent departures. Sanchez, who has been arrested twice, worries that this will allow "ideological filters" to remain. "The law does not directly give people the right to enter and exit this country," she said.

Earlier this year, the Brazilian government offered Sanchez a chance to attend the screening of a film that details Cuba's troubled record on human rights, but she was denied a visa.

Recent reforms have allowed small businesses such as restaurants and guesthouses to grow, although they are constrained by heavy taxes and regulation. Critics of the regime argue that the changes are not happening quickly enough.

"This government is trying to give the impression that it's changing, but the country is on the edge of a cliff," said Oscar Espinosa Chepe, a dissident economist in Havana.

"The problem is that the government is scared. They know that economic freedom is linked to political freedom."

Espinosa Chepe, who was jailed by the regime for 18 months in 2003, also pointed out that the average monthly wage of £12 rules out travel for anyone not receiving remittances from abroad.

Sanchez intends to join the passport queues. "I don't want to feel defeated," she said. "I'll go to the office and try to get a passport. In the meantime, I'll enjoy the illusion that I can leave."