Hunger for Chavez news prompts media mishaps
| Jan. 24, 2013 |
Caracas, Venezuela
Published by GlobalPost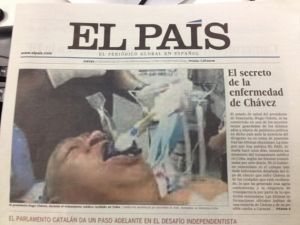 Photo: Girish Gupta
Madrid's El Pais, the Spanish-speaking world's newspaper of note, thought it had a huge scoop last night, when it published an image purported to be of Venezuelan President Hugo Chavez lying in a Cuban hospital bed with tubes stuffed down his throat. But editors quickly apologized after they realized the photo wasn't of Chavez hours after the paper went to print.

"The secret of Chavez's illness," read the front-page headline.

El Pais removed the story from its website within half an hour and stopped the presses. It also collected copies of Thursday's early edition from newsstands.

Although the mistake is a grave one for the newspaper, it highlights the public desire for information about the well-being of Venezuela's maverick leader, who's not been seen or heard since a six-hour operation in Havana last month.

Chavez has apparently struggled to recover from his fourth operation on an unspecified form of cancer in his pelvic area.

The silence, as well as the tight-lipped and sometimes contradictory statements about the president's health from Venezuelan authorities, have fueled rumors that he may be on his deathbed.

Vice President Nicolas Maduro has taken the reins, filling in for Chavez on his inauguration, the annual state of the union address and various celebrations. He's also shuttled between Caracas and Havana with other high-ranking officials to check up on their boss.

The rumor mill is churning nonstop on Twitter, which is popular in the Latin American nation. An image circulated earlier this week purported to show Chavez walking in Havana after his recent surgery. Some tweets and South American news sites proclaimed it to be the first photo of Chavez post-operation, but have been impossible difficult to verify.

Venezuelan Information Minister Ernesto Villegas this morning tweeted various articles about El Pais's mistake, a link to the newspaper's own style guide as well as his own criticism.



"Would El Pais publish a similar photo of some European leader? Of its director? Yellow journalism is valid if the victim is a South American revolutionary," he tweeted, accusing the paper with violating its own editorial standards "to attack Venezuela."

Venezuelan authorities are quick to jump on grave mistakes or coverage they deem to be malicious reporting by foreign media as alleged proof of a bias against the socialist country.

After Miami's Spanish-language El Nuevo Herald reported that Chavez had been rushed to a hospital for kidney failure in September 2011, he invited the press to his presidential palace.

The president emerged with a baseball in hand and tossed it back and forth with aides before lecturing the assembled press for two hours.

Last March, London's Independent was forced to run an embarrassing correction on an article that alleged Chavez had "indulged in a 'homophobic rant' against a political rival," according to the paper's admission.

Venezuela's ambassador to Britain described the error as "absurd and libelous."

European media have come under criticism in other Latin American countries. In Cuba, the Prisa group that owns El Pais is frequently attacked for its perceived bias against the region's leftist governments.

One editorial Thursday on a Cuban state-run site said the fake photo of Chavez was the result of the company's "irresponsible enthusiasm to use any kind of falsehood to denigrate the revolutionary movements of Latin America, whether in Cuba, Venezuela or any other member nation of ALBA," referring to the Chavez-led regional alliance.

On her Twitter account, Argentine President Cristina Fernandez de Kirchner, a close Chavez ally, likened El Pais to the Rupert Murdoch-controlled London tabloid The Sun, "wrapped up in corruption with the Cameron government, and who knows what else."

In Spain, however, El Pais is widely considered to be a backer of the Spanish Socialist party of former President Jose Luis Rodriguez Zapatero.

The controversial shot temporarily placed on El Pais' front page was taken from this YouTube video, uploaded there in 2008.

Nick Miroff contributed reporting from Havana.