Venezuela releases first photos of sick Chavez
| Feb. 15, 2013 |
Caracas, Venezuela


Published by GlobalPost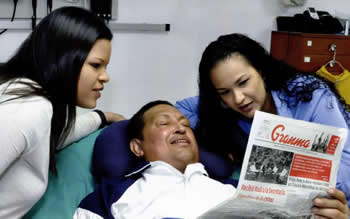 Photo: Girish Gupta
Venezuela on Friday released what the government says are the first photos of President Hugo Chavez since he underwent his fourth round of cancer surgery in Havana back in December.

For many, the images mean the first proof of life of Chavez after two months of silence from the usually garrulous president.

Pictures showing the convalescing 58-year-old alongside his two daughters in a Havana hospital bed aired on state television.

Authorities said the shots were taken Thursday by Chavez's son-in-law, Science and Technology Minister Jorge Arreaza, following protests over a lack of information.

"After two months of a complicated postoperative process, the patient remains conscious with his intellectual functions intact," said Information Minister Ernesto Villegas, adding that Chavez was in close communication with his cabinet.

Villegas also added that Chávez was breathing through a tracheal cannula. This means that speaking will be near impossible and explains, in part, why there has been a lack of the usual phone calls to state television during this convalescence.