Where is Chavez? Opposition protests the Venezuelan leader's continued absence
| Feb. 16, 2013 |
Caracas, Venezuela


Published by GlobalPost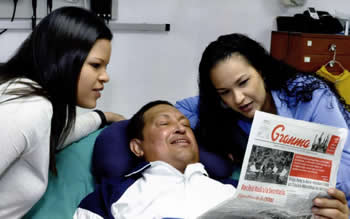 Photo: Girish Gupta
Images of President Hugo Chavez released by Venezuelan authorities on Friday have driven a wedge further into this polarized South American country as it awaits the return of its leader from cancer treatment in Cuba.

The photos — regarded by many as the first proof of life of Chavez since December — boosted confidence among his supporters when they aired on state television. But, at the same time, they also reinforced discontent among the opposition, whose members say pictures are insufficient to demonstrate the ailing 58-year-old is fit to govern.

The four images of Chavez, smiling and dressed in a track suit, lying in a Havana hospital bed flanked by his two daughters, became public as pressure mounted on the government after two months of silence from the usually garrulous president.

In Caracas' Plaza Bolivar, supporters were selling prints of the photos for a few dollars.

"Through this photo, with that big smile, Chavez is calling on the people of the world," said Aniluz Serrano, 57, selling the prints.

The government said Friday that Chavez breathes through a tracheal cannula and struggles to speak.

"It doesn't matter that he can't talk," Serrano added.

After purchasing a photo, 24-year-old Idan Sotto said he felt relief that Chavez was alive.

"He's done so much for the poor," Sotto said. "He'll be back."

However, the leader's opponents are agitated.


"A few days ago the liars said they were speaking with the president," wrote opposition leader Henrique Capriles Radonski on Twitter. "Now they say he can't talk!"

Outside the capital's Cuban Embassy, dozens have protested for three days. They decry a lack of information on Chavez's well-being and say it appears authorities in Havana are the ones pulling the strings here.

"We want to know the truth," said Roderick Navarro, 25, an organizer of the protests. "If Chavez can govern, he must come back to this country and govern. If he cannot govern, elections must be called."

Venezuela's constitution requires that, should the president be declared unable to govern, new elections must be called within 30 days. These would likely pit Chavez's chosen heir, Vice President Nicolas Maduro, against Capriles, the opposition leader who lost to Chavez in October's presidential election.

Maduro is likely to win any election, say analysts, thanks in large part to a sympathy vote and Chavez's "Midas touch." The long-fractured opposition, meanwhile, looks to be struggling to maintain unity.

"It is obvious that most important decisions regarding the future of Venezuela are being made in Cuba," said opposition leader Maria Corina Machado. It was the protests outside the Cuban Embassy, she added, that forced the release of the photos. Now Venezuelans like Corina demand more than still images.