Fairy sees 'Red' at Panto Society fundraiser
| Nov. 30, 2009 |
Published by Student Direct: Mancunion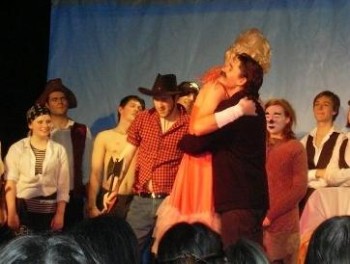 Photo: Girish Gupta
Student comedian 'Red' Redmond caused a stir at a recent charity fundraiser for the University of Manchester's Panto Society by announcing his resignation from the show during his comedy set.



After a microphone failed to work at the event held at Baa Bar, Fallowfield, the comedian, real name Harry Redmond, told the crowd how unorganised the panto had been and that the show "wasn't worth coming to see."



Redmond went on to present his comedy act. However, the 80-strong audience at the Fallowfield pub were unamused, with one reportedly throwing a fairy's wand in his direction, which hit him in the face. 'Red' then announced his resignation from the panto.



The top floor of the Fallowfield bar had been hired out by the society in order to raise money for the panto and the event featured comedy and a pub quiz.



Salford student Redmond was set to play a major part in Robin Hood, the society's Christmas show, prior to the incident.



However, another local comedian, Jonny Addy, who was present at the event, has offered to fill Redmond's boots as narrator.



Despite Red's resignation and comments, second year student and Assistant Director of the production Emily Wenman was pleased with progress so far. "It's aimed at students," she said. "It's got lots of dirty humour and student jokes, along with lots of local references."



Redmond's comments and behaviour may surprise loyal panto audience members. Manchester graduate James said: "I always used to enjoy the panto [when I was a student]. Even after I graduated and moved away, when my friends said they were going last year, I jumped straight on a train and travelled the required 300 miles."



He added that it was: "Totally worth it."



Speaking to Student Direct: Mancunion, Redmond said: "Basically I'd been asked last-minute to organise some of the comedians. I got them sorted, turned up and the person who'd sorted out the night didn't have a microphone for us.



"Some of the comedians were already pissed off. They were taking it out on me. I went on stage, someone threw something at me so I quit."



The panto takes place every year for Manchester RAG and all proceeds go to RAG charities. This year's event at Baa Bar raised over £230, a figure that Wenman is very pleased with.



Robin Hood will take place on December 10, 11 and 12 in the Union's Council Chambers. Tickets are available from the RAG office. All proceeds go to RAG charities.