Mancunion success at student media awards
| Nov. 30, 2009 |
Published by Student Direct: Mancunion



Jennie Agg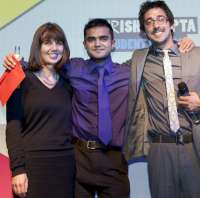 Photo: Girish Gupta
Two travel-writers from Student Direct: Mancunion Edition were lauded at the Guardian news group's annual student media awards held at Camden's Proud Galleries in London last Wednesday.



Clyde Mcfarlane, last year's Travel Editor, scooped the top prize for Student Travel Writer of the year, while current Student Direct: Mancunion News Editor, Girish Gupta, came runner-up. Both writers received cash prizes.



The Guardian Student Media Awards have been running for over 30 years. Gupta said of the event: "It's great that the Guardian celebrates and gives leverage to the importance of student media. To be part of that very cool atmosphere in Camden Market last week and to receive an award at it was ace."



Former Student Direct Editor, Susannah Birkwood, was also shortlisted for Student Reporter of the year, but lost out to Michael Stothard from Cambridge University's independent student newspaper Varsity.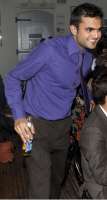 Photo: Girish Gupta

The judging panel for the awards included Alan Rusbridger, Editor-in-chief of Guardian News and Media as well as Jon Snow, Evan Davis and Colin Murray chose the winners after spending a day analysing student newspapers, websites, magazines and photographs.



Newspaper of the year went to Leeds Student, while former Varsity Editor Patrick Kingsley took home the accolade of Student Journalist of the year.