Cuba's Journey on the Internet: There's a Long March AheadGirish Gupta
TIME
| Aug. 14, 2013 |
Havana, Cuba
As far as the Internet goes, Cuba is the Western Hemisphere's last frontier. Despite the island nation's proximity to Florida — just 90 miles away — and the existence of a fully functioning fiber-optic cable linked up to Venezuela, only 25% of the population is online, according to last year's government statistics, which are likely inflated. In June, Cuban citizens were for the first time legally allowed access at designated "cyber points" but few can afford the charges—the cost of one hour online matches an average Cuban's week's salary.

But the communist isle is hardly cut off from the outside world. The streets and homes of Havana teem with pendrives, available from bootleggers for around $2, which carry everything from the latest film, music and television releases to property adverts and news. "Of course I know Gangnam Style, the Korean guy!" exclaims Nery Galindo, 24, in the leafy Havana district of Vedado. "But you know what, I saw it first thanks to a pendrive, not on the Internet." A block down, Tomás Inda Barrera, the director of the School of Creative Photography in Havana, has a pendrive around his neck and two more in his bag. "It's the easiest way to move information," he says. "In Cuba, almost everyone has a pendrive. It's fundamental."

Many who are opposed to the government of the Castros hope that wider access to data will galvanize dissent on the island. "I sincerely believe that one day there will be a museum of Cuban democracy and it will have a monument to the pendrive," says dissident Cuban blogger Yoani Sánchez, 37, sitting in her Havana living room. "A society so closed off has developed an ingenious underground mechanism to pass on data." Sánchez has used the Internet to spread her anti-government views despite the restricted access, having snuck into hotels to upload to her blog and used SMS/text messages to post to Twitter. Her blog Generation Y is popular and her Twitter account is followed by more than half a million people. Cuban authorities have arrested Sánchez multiple times since her blog began in 2007.

However, there is little evidence that the pendrives or a fledgling internet are being used in such a way. In his book The Net Delusion: How Not to Liberate the World, Belarusian writer Evgeny Morozov points to parts of East Germany during the Cold War where it was possible, thanks to their geography, to receive western television signals. Popular American shows at the time such as "Dallas," "Dynasty" and "Miami Vice" made up preferred viewing. "Western television made life in East Germany more bearable," writes Morozov, "and by doing so it may have undermined the struggle of the dissident movement." Sánchez admits this is an issue. "Sadly, like many other countries, the majority of Cubans aren't interested in politics. Most people are watching American films and listening to American music," she says.

In Cuba, foreigners have for a long time been able to get online at high-end hotels on eye-wateringly slow connections costing some $7 an hour. Cubans were banned until June this year when the government allowed them access at 118 expensive "cyber points" across the country. With an average wage of $20 a month, however, the $4.50 an hour cost is prohibitive to most. "I'd love to use the internet to communicate with my family and friends abroad," says waitress Marianela López, 35, at a bar on the Malecón, the city's iconic seafront. "But I only earn around $10 a month."

Before the reform, a select few working in government, education and other chosen sectors, already had cheaper access. They, alongside those able to afford the high prices as well as those with illegal connections — rigged to satellite dishes smuggled onto the island — are the ones who fill the pendrives with the Internet's gems and put them into circulation. According to Google's Transparency Report, Cuba's access to the Internet giant's websites showed no significant rise when Cubans were allowed to legally go online this year.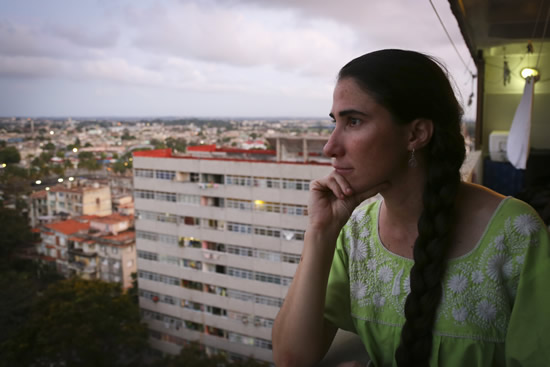 Photo: Girish Gupta


To use the internet at a "cyber point," Cubans must hand over their identity card before logging on and their activity, while much quicker than in hotels, is somewhat restricted. In an hour at one site in Vedado, it was not possible to access Sánchez's blog, a CraigsList-style classifieds website called Revolico, nor the website of Radio Martí, the Miami-based anti-Castro station. It was, however, possible to access the websites of TIME, the New York Times and even edit the Wikipedia entry of Raúl Castro. Users in Vedado were predominantly catching up with friends on Facebook.

Elaine Díaz is a supporter of the Cuban government though runs her own blog, La Polémica Digital (the Digital Controversy), that is sometimes critical of local authorities. Díaz says the political landscape in the country is far more nuanced and complex than foreigners may imagine it to be. "Cuba is more than two poles," she says. "There is a cultural and political diversity [that has created] a space for dialogue, conversation, discussion and reflection. The internet, even with its limited nature on the island, has helped create this space."

In a recent interview in Communist party newspaper Granma, Deputy Minister of Communications Wilfredo González Vidal said that he expects prices to fall as well as implementation of WiFi services, mobile internet access and domestic connections. He attributed delays to "the country's economic situation and the investment needed," which the government blames on the US embargo in force since 1960. Blaming US policy, though, seems misplaced given that countries more friendly to Cuba have offered help.

More than two years ago, Venezuela confirmed that an undersea fiber-optic cable between the two countries was "fully operational." However, the cable only began to carry traffic earlier this year, which "suggests that infrastructure, though weak, is not the primary factor in Cuba's digital isolation," says Ashley Greco-Stoner, a senior research assistant at Freedom House. "The Cubans have always been very nervous about the internet," adds Ann Louise Bardach, a long-time Cuba analyst and author of Without Fidel: A Death Foretold in Miami, Havana and Washington. "Unfettered information could lead to dissent and opposition."

As Communications Minister, Ramiro Valdés, 82, is in charge of the roll-out of the internet on the island. Valdés is a veteran of the Revolution; he fought alongside Fidel Castro in the 1950s and is infamous for his tenure as Minister of the Interior when he oversaw secret police operations and had a reputation for ruthless suppression of dissidents. Valdés is said to have described the internet as a "wild colt" that must be controlled. "All you need to know about the Cuban internet is who was put in charge of it," says Bardach. "The most feared spymaster in Cuban history was made head of the internet. That tells you everything."

Even as the country's population of netizens grows, much more still has to change. "Savvy people who are smart can get access," says Ted Henken, President of the Association for the Study of the Cuban Economy based in Washington, D.C., and author of several books on Cuba. "But there is a big difference between pendrives used by a connected elite group and mass access to a pluralistic media."