Two Manchester Medics' hospitals listed as worst in the country
| Dec. 2, 2009 |
Manchester, England
Published by Student Direct: Mancunion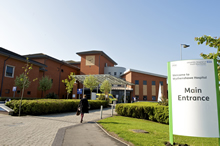 Photo: Girish Gupta
South Manchester and Tameside Hospital Trusts have been lambasted in a report published last week by Dr Foster, an independent body which provides guides to public and private health services.




The two Trusts, used by the University of Manchester Medical School to train its students, came in the bottom seven in a list based primarily on patient care and mortality rates. The report received huge media attention when it was published.



The University Hospital of South Manchester Board was not the only one which questioned the methodology used by the report, however. "In their last report, Dr. Foster rated UHSM in the top ten safest hospitals in the country, based on low mortality rates," said a spokesman.



"Mortality rates at UHSM are even lower this year, yet the same hospital is now being catapulted to the bottom of the National league table."



Dr Foster, based at Imperial College, London, opened its report with the question: "How safe is your hospital?" It spoke of systematic failures in patient safety across the NHS. The report ended with its list of highest and lowest scoring NHS trusts.



Junior doctors and students seem unhappy with the report's conclusions. Former University of Manchester student and now foundation year doctor at the hospital, Nina Stamoulis, told Student Direct: Mancunion: "The report was unhelpful based on circumstantial information used in prejudice.



"The news was announced after I had been spat on by a 15 year old in A&E. I took it like a punch in the face."



Dr Karim Adab, of Royal Bolton Hospital, added: "It is useless and demoralising."



The University of Manchester declined to comment on the issue.