Henrique Capriles: 'Pragmatism is winning'
| Sept. 1, 2013 |
Caracas, Venezuela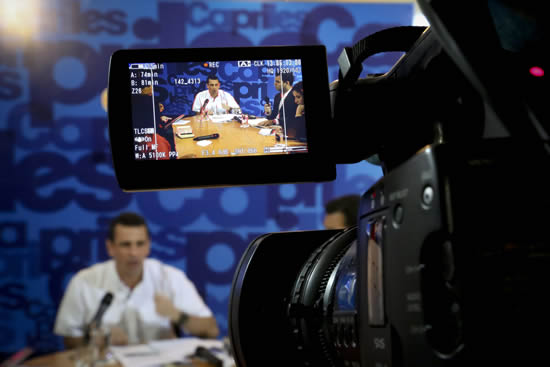 Photo: Girish Gupta
Published by LatinFinance

At his campaign headquarters in the Caracas district of Bello Monte, Henrique Capriles finishes off his weekly TV show "We are all Venezuela" surrounded by a staff less invigorated than it was 18 months ago.

The mood has darkened in the wake of Capriles' two major election defeats – by Hugo Chávez in October 2012 and by his successor Nicolás Maduro the following April – and the numerous hurdles which have been placed ahead of him.

And Capriles' show has been forced to broadcast online after the country's last remaining "opposition" television station abruptly took a more pro-government line instead and stopped airing it.

Yet, the 41-year-old Capriles remains defiantly optimistic. "Venezuela is destined for change. Venezuela is going to change," he tells LatinFinance, as aides clear up camera equipment around him.

When Capriles lost to Chávez, his 44% share of the votes was nevertheless hugely significant for a disparate opposition which had struggled to unite during nearly a decade and a half of self-styled Bolivarian socialism.

Capriles had been keen to adopt the mantle of the new face of Latin American pragmatism, casting himself in the mold of former Brazilian president Luiz Inácio Lula da Silva. "I 100% follow the model of Lula," he said before opposition primaries in February 2012. Lula, however, endorsed Chávez and then Maduro in subsequent elections.

A year and a half of election defeats and countless battles later, Capriles is more measured on his role as a Venezuelan Lula.

"We must keep revising our model," he says. "Fundamentally, I believe in the progressive model in which public and private sectors work together." He favors market-friendly economic policies with income redistribution, but has been guarded on the details of his policy prescriptions, in the hope of not alienating disillusioned Chavistas.

Regional shifts

Pragmatic leaders are emerging across the region – from Peru's Ollanta Humala to Uruguay's José Mujica. Humala lost the 2006 presidential election having campaigned in a red T-shirt and spouted anti-capitalist rhetoric, happy to trumpet his friendship with Chávez. In elections five years later, Humala shied away from Venezuela's former president and smartened up in a shirt and tie – and won.

Capriles, though, notes that Venezuela remains economically vulnerable to the political status quo. "In Latin America, politics can end up dragging the economy with it," says Capriles.

He cites Ecuador as an example. "Economically, Ecuador is fine. Now if president Rafael Correa tries to make his project a hegemonic one, controlling the institutions, controlling the media, controlling the parties and power, you're going to see that politics will end up dragging the economy down too because there is corruption; there are abuses." These, Capriles says, "close the window to democracy," both in Venezuela, Ecuador and across the region.

"The challenge is how economics and politics work together democratically," says Capriles.

Capriles lost his appeal to Venezuela's Supreme Court over the results of the last election. Maduro won by less than 250,000 votes, according to the National Electoral Council, though the opposition cried foul. Capriles was ordered to pay a fine of 10,000 bolívares ($1,700) for insulting the government and questioning the legitimacy of the court.

That same day, his chief of staff Óscar López was arrested in what government critics see as evidence of political oppression. Maduro said that authorities had captured "a chief of corruption and of the mafia of the Venezuelan right."

Yet, Capriles takes such developments in his stride, insisting he wants to proceed in a "legitimate" manner, that is, within the rule of law and with respect from the international community.

Ultimately, though, Capriles says "the question of whether the change happens tomorrow or not, I don't know because there are several scenarios." These include a recall referendum, which can take place in three years, three years' short of the presidential term limit.

Maduro lacks Chávez's popularity and relies heavily on the momentum of his late predecessor. Local polls show that Capriles could win against Maduro if elections were held today, although no such poll is likely. But with annual inflation at 42.6%, a soaring crime rate and mounting shortages of basic goods, Maduro faces formidable challenges.

This stretches into Maduro's own socialist party where rumors abound of a challenge to his leadership. Such talk was fuelled by leaked tapes, which revealed a lack of unity within the government – problems not apparent under Chávez.

Capriles' strength, not shared by many in the opposition that he leads, has always been in his ability, at least ostensibly, to relate to the poor. Despite his wealthy background – his family owns a chain of cinemas – Capriles would often ride into slums on his motorbike and play basketball with the locals during the campaigns.

It worked – almost. Before April's election, many in Chávez strongholds said that while they were staunch Chavistas, and always would be, they would vote for Capriles this time.

Nevertheless, the majority of Chávez-supporters obeyed the final public request of the ailing president, who beseeched the nation before his final cancer operation that should anything go wrong, they should vote for Maduro.

Chávez, of course, was the master of public relations when it came to the poor, but was less concerned with his international standing. Capriles, however, has spent the months since his last narrow election defeat shoring up his ties across the region – in some cases to the detriment of foreign relations.

International platform

"We are taking the voice of millions of Venezuelans beyond our borders," Capriles announced in Bogotá, before meeting Colombia's president Juan Manuel Santos.

His message looks to be getting through, although regional leaders will be careful not to offend Venezuela, which, with the world's largest oil reserves remains powerful if not as an ally, at least not as an enemy.

Authorities in Venezuela reacted with fury to Capriles' meeting with Santos. Diosdado Cabello, head of the National Assembly, accused Santos of "placing a bomb" under the countries' much-improved relations in recent years – and advance that was partly due to Maduro's efforts as foreign minister.

The would-be leader also met Chile's president Sebastián Piñera, though Peru's Humala declined such a meeting. Capriles, though, insists that governments across the region are alive to his concerns over democracy and the rule of law in Venezuela.

"I think more important than what they said was that they listened to our approach," he says. "In Latin America these hegemonic projects of undefined elections, constitutions that are tailored to the government in power and so on are very negative."

That is the message that Capriles is hoping to spread around the region. "That's what I told Santos. That's what I told Piñera," he says. "That's what I'm going to tell other institutions with which we are meeting. We have to raise the banner of democracy and change in Latin America."

Nevertheless, Capriles insists that politically, the region is heading in the right direction. "Pragmatism is winning right now in Latin America," he says.