Egypt Christians mourn after wedding party shooting
| Oct. 22, 2013 |
Cairo, Egypt

Published by USA Today

Thousands of Christians turned out for the funerals of four members of a family gunned down as they waited outside a Coptic church for a wedding, in what the Christians said was the latest murder by Muslim terrorists.

Fahmy Azer Abboud, 75, sat Monday in the Church of the Virgin Mary, where gunmen the night before fired on a family wedding party with automatic weapons. His son, his wife's sister and two granddaughters, ages 8 and 12, were killed.

"They were pure angels," he said of his granddaughters, both named Mariam. "They had the world's kindness inside them. They helped me and shared with me everything they had."

The shooting has worsened the panic among Egypt's minority Coptic Christians, who have been discriminated against for centuries by the Muslim majority. The Christians say things got worse under the Muslim Brotherhood, the Islamist group that was ousted from the government in July by the Egyptian military.

The Coptic Orthodox Church is one of Christianity's earliest branches and it predates the creation of the Muslim faith by centuries.

Since the ouster, attacks on Christians, who are 10% of the country's 80-million people, have risen. The Coptics say they're blamed for the overthrow of Muslim Brotherhood President Mohammed Morsi and dozens of their churches have been attacked since the ouster.

According to eyewitnesses of Sunday's killings, masked gunmen rode motorcycles past the church in the working-class district of Warraq around 9 p.m., just as three weddings were taking place.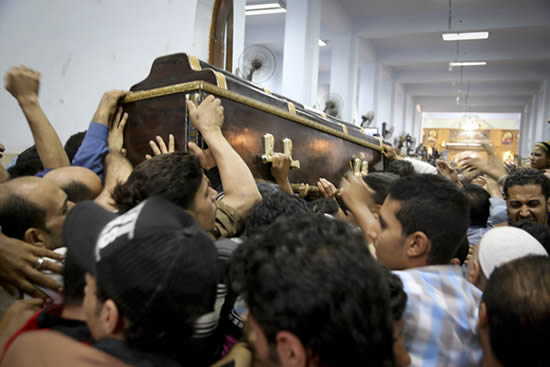 Photo: Girish Gupta


"I came down to find the church hall a sea of blood," said Father Elia Labib, who was to preside over one of the weddings.

"This was clearly planned," said Labib, who added that Sunday is the most popular day for weddings at the church, meaning many revelers would be waiting and could be easily targeted.

Mourners on Monday carried large crosses into the church for the funeral. A light green chair stained with blood still sat at the building's entrance, a bullet hole in the back. Abboud's sister-in-law was in the chair when shot.

Mourners rushed inside the church as the four coffins were carried in.

"Justice or to die like them," yelled mourners as the funeral came to an end. "Raise your head, you're Coptic."

Prime Minister Hazem el-Beblawi condemned the attack.

"These terrible acts will not succeed in sowing divisions between Muslims and Christians," he said.

The Muslim Brotherhood as well as the top cleric at the Al-Azhar mosque, the world's highest seat of Sunni Islamic learning, also condemned the violence though Christians doubt their sincerity.

Fighting between supporters of Morsi and security forces is taking place daily in Cairo. Bird shot and tear gas were fired at hundreds of protesters at the Al-Azhar university on Sunday while more than 50 people, primarily supporters of the Muslim Brotherhood, were killed in clashes in Cairo on Oct. 6.

Coptic leader Pope Tawadros II has publicly supported Morsi's overthrow and appeared alongside Defense Minister Abdel-Fatah el-Sissi, who led the coup, when it was announced.

On Aug. 14, hundreds of pro-Morsi protesters were killed by security forces as they staged sit-ins across Cairo. More than a thousand have been killed since the coup in July. No one has claimed responsibility for the latest attack.

Since August's crackdown, Amnesty International says more than 40 churches have been seriously damaged, putting blame on security forces for failing to stop what it called "revenge attacks."

Coptic leaders say the attacks are the worst in centuries.

"In the last few months, we've seen many more demonstrations by the Muslim Brotherhood outside the Church," said Father Bishay Lotfy, a priest.

While the current military leaders of Egypt have jailed many Muslim Brotherhood leaders, Lofty says the government is doing little to protect Coptics.

"Only God can protect us, not the government."

"It's God's will. They are always beating us down. Every other day now, they do this," Abboud said.

Contributing: The Associated Press