Feeling Muzzled in Guyana After Singing Calypsos of CorruptionGirish Gupta
Text, photos and video:
New York Times
[
PDF
] Audio:
BBC
, RFI | Dec. 6, 2013 |
Georgetown, Guyana
Dressed in a bright yellow hat, garish green shirt and oversize red tie, De Professor danced onstage, his waist-length dreadlocks following behind while he sang of government wrongdoing.




"With all de corruption dat taking place, we is de ones they blame," the song, "God Nah Sleep," went. "While dem a thief, thief, thief, we just sit down like if we lame," he continued, complaining of public inaction in the face of widespread graft.

The performance was so well received that it delivered the 43-year-old singer, whose real name is Lester Charles, a victory early this year in the annual calypso competition in Guyana, a tiny country on the shoulder of South America.

But the song so angered the government minister for transport and hydraulics, Robeson Benn, that he stormed into the state radio station's offices soon after and, according to numerous accounts, demanded that it be banned, along with an array of other competition-winning calypsos.

A conflict has since surfaced between the government and calypsonians, who accuse it of repressing their often politically charged music by keeping it off the airwaves. The dispute has piggybacked on decades-old ethnic tensions between descendants of African slaves and those of indentured Indian servants, two groups that have battled for power for half a century in this Caribbean nation of 740,000 people.


"Calypso is stifled in Guyana because it speaks the truth," said Mr. Charles, who makes his living working as a bauxite miner on the Berbice River in the Guyanese jungle. "People love the song because it's real spicy, and that is what calypso is all about. The only people that get vex by my music are those in government."

In a recent interview in the capital, Georgetown, Mr. Benn described Mr. Charles's song and others like it as "slanderous, vulgar and naked political assaults." He admitted storming into the station to complain, but denied that he had instructed the country's state-run National Communications Network, or NCN, to ban any songs. (Though he did say that some "shouldn't be played.")

Still, pictures of notices ordering staff members at the station not to play calypso found their way onto Facebook shortly after the episode.

Just as West Coast hip-hop stars provided a soundtrack to racial tensions in Los Angeles in the early 1990s, calypsonians here have long waxed lyrical about the corruption, assassinations and other violence that have punctuated Guyana's history since independence from Britain in 1966.

The former colony is an oasis of British and Caribbean culture, unusually sheltered from many Latin American influences by a vast tract of Amazon jungle. A political party made up primarily of African-descended supporters held power for nearly three decades — amid accusations of fraudulent elections and murderous repression — until an Indian-descended group took over in 1992.

"We have a culture of corruption, and the calypsonians capture that," said David Hinds, a political activist here and an associate professor of African and African-American studies at Arizona State University. Under the current government, he added, "the calypsos have increasingly come under assault."




President Donald Ramotar has been careful to present a supportive stance toward one of the nation's most popular art forms, saying that Guyana is instrumental in calypso culture throughout the Caribbean. "There is a strong link between Guyana and calypso music," he said. "Art and culture is blossoming more than at any other time since independence."

NCN is the country's primary broadcaster. Other networks were granted licenses in recent years, but they are not as popular, and are also generally friendly to the government, critics say.

"Even if you have these new radio stations, I don't expect much of a difference in terms of programming," said Enrico Woolford, who runs a local independent television news station and is also a regular judge at calypso competitions.

The culture minister, Frank Anthony, said that the government's financing of the annual calypso competition was evidence that it was doing all it could for the calypsonians.

"The ministry puts all this money into calypso, and most of the songs are critical of the government," he said in his Georgetown office. "You can't get more free speech than that!"


But many calypsonians, including Ras Marcus, an award-winning singer, think differently. "The calypso competition is controlled by the Ministry of Culture, and they censor your lyrics," he said, adding that lyrics had to be submitted long before the event took place. "If it's not in their favor, they will call you to make an adjustment."

Mr. Marcus, 45, has entered the calypso competition nearly every year for more than two decades, and his music has often been provocative, at times causing rioting. "Calypsos are being repressed in Guyana," he said, clad in a colorful vest, sunglasses and denim shorts as he sat on his sofa in Georgetown.

Mr. Marcus said he was inspired to play calypso after his childhood hero, Walter Rodney, the first Guyanese politician to come close to achieving a significant level of support from both ethnic groups, was assassinated in a bombing in 1980. "I was a youth, and I cried for Walter," Mr. Marcus said. He then sang a song about the activist.

"I always wanted to make a contribution to this country, but I don't have the stamina," Mr. Marcus added. "I prefer to relax."

The calypso genre is known for double entendres. One of Mr. Marcus's songs ostensibly promotes the governing party here, which is identified by its symbol, a cup. However, the song in reality plays on an obscenity and describes the party's mistakes.

"I was told I used indecent language," Mr. Marcus said. "I was talking about this cup, the symbol of the party. I was advising people to go for the cup."

Senior staff members at NCN deny that any ban on playing calypso is in effect, though it is rare to hear the music aired. Michael Gordon, the chief executive of the network, said that the notices ordering staff members not to play calypso had been put up in an act of "overexuberance" by a colleague without his knowledge. He added that the station had opened its studios to the calypsonians to record their music, though they had not taken up the offer.

Mighty Rebel, 67, the president of the Calypso Association here, said that "in calypso, you talk about the politicians, you talk about the preachers, you talk about anyone who does anything that needs speaking about."

"We are the mouthpiece of the people," he said in a sugar cane field outside his modest home. "The government needs to give us a break and let us sing."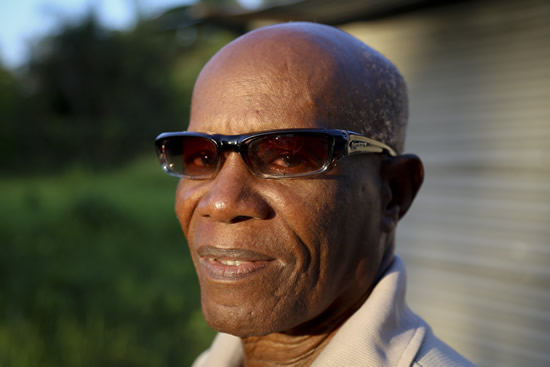 Photo: Girish Gupta