Venezuelans in shock over protest deaths
| Feb. 13, 2014 |
Caracas, Venezuela

Video, photo and text published by USA Today

Girish Gupta and Peter Wilson

Burnt trash lay in the streets Thursday, the morning after the largest protests yet against the government of Venezuela's President Nicolás Maduro.

Signage from a government ministry lay strewn on the ground, having been broken and burned the night before in demonstrations by thousands of Venezuelans that left three people dead.

The violence caps two weeks of protests around the country, with both the government and opposition leaders pointing fingers at each other. Both sides also said they would be back in the streets this weekend.

"They both blame each other," said Wilson Ordóñez, 45, as he pointed to debris in a Caracas square.

"It's the same as ever," added Carmen Perdomo , 61, a local professional. "It's the government that has to show a good example. They don't, yet blame everybody else."

Maduro led his own counter-rally during the protests, which were held to complain about the government's state-controlled economic policies that have led to chronic shortages of basic goods.

"We've come to denounce the growth in Venezuela of a current of Nazi-fascism that will drive this country into violence and chaos," said Maduro to the crowds, accusing the opposition of using violence to attempt to topple his government. "But our revolutionary youth in the streets won't allow this to happen!"

Venezuela has issued an arrest warrant for opposition leader Leopoldo Lopez in the wake of the violent protests. According to the warrant, Lopez is wanted for various charges including incitement to riot.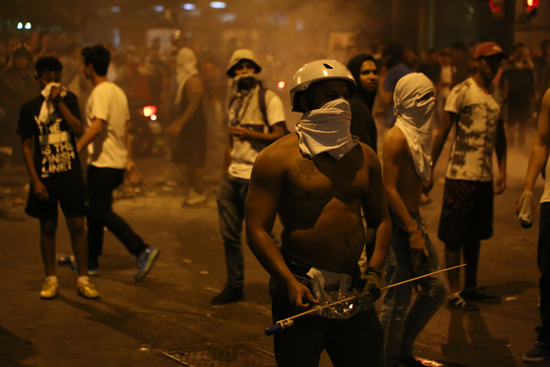 Photo: Girish Gupta


A picture of the warrant appeared on various social media outlets and was confirmed by Lopez's Voluntad Popular party, which will address the charges in a press conference later Thursday. It was unclear whether Lopez — who has been calling for street protests to demonstrate against corruption, crime and nationwide shortages — would appear.

Analysts say Maduro may have overplayed his hand with the decision to arrest Lopez, a former mayor of a Caracas borough.

"The government's decision to arrest Leopoldo López is a very serious miscalculation," said David Smilde, a senior fellow with the Washington Office on Latin America. "This will make Lopez into a cause celebre for the opposition and could generate serious anti-government mobilization."

Lopez, who attended college in the U.S., has been a constant critic of the government. He was previously banned from running for public office until 2019 because of alleged corruption, a move Lopez claimed was taken because the government fears him.

Two other arrest warrants have been issued for Ivan Carratu Molina, a former high-ranking military officer, and Fernando Gerbasi, a former Venezuelan ambassador to Colombia.

Maduro has repeatedly claimed Lopez and other opposition figures are seeking to remove him by force from power. Maduro narrowly won a special election in April to replace the late Hugo Chavez. His opponent, Henrique Capriles Radonski, has yet to recognize his defeat, saying Maduro won by fraud.

The political crisis is coinciding with Venezuela's worsening economy.

Food shortages are growing more severe, and shoppers now spend hours waiting in line to find goods such as cooking oil, toilet paper, meat and cornmeal.