Protests continue in Venezuela amid growing anger
| Feb. 15, 2014 |
Caracas, Venezuela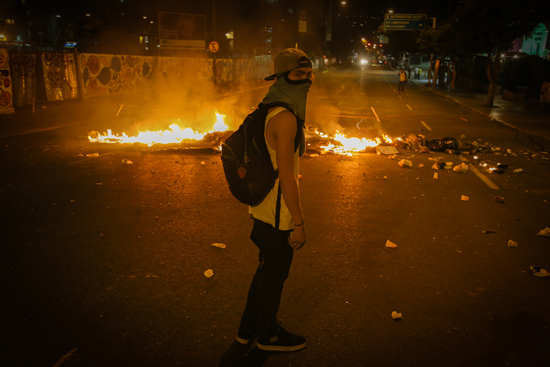 Photo: Girish Gupta

Published by USA Today

More protests are expected here Saturday, and the government has called for a march after nationwide protests continued for a third straight day in Venezuela.

Protesters burned trash and pelted police with stones Friday in the city's Plaza Altamira, long a focal point for opposition unrest. Riot police used tear gas and water tanks to disperse some 1,000 students who had gathered.

Similar events took place around the country as students demand the release of those recently arrested in the protests and justice for two students killed Wednesday.

The protests are the largest faced by President Nicolás Maduro since he came to power last year. There is growing anger at soaring inflation — which has grown to 56.3% over the past 12 months — and a murder rate that according to local NGOs is one of the world's highest.

Around 100 protesters were arrested in recent days and, according to the government, a quarter of them have been released. The rest are to be processed shortly, in the hopes of alleviating some of the anger felt by the students.

Some on the square in Caracas on Friday, however, vowed to continue their protests until Maduro was no longer in power.

"It doesn't matter how long it takes, a week, a month. We'll be here every single day," said Jose Pérez, 34, standing by burnish trash. "We are at war."

Maduro has accused the protesters of trying to launch a coup against him. His predecessor, Hugo Chávez, was ousted for about 36 hours in 2002 amid similar protests.

Earlier this week, the 51-year-old president said that any protest that had not received permission from the government would be banned.

"People have a right to their lives," Maduro said, blaming the opposition for the deaths. "Enough! I'm not going to allow it any more."

The opposition in turn blames armed pro-government militias, which it says are backed by the government, for fomenting the violence.

An arrest warrant has been issued for Leopoldo López, a major opposition leader who has backed the protests. The 42-year-old, who once touted as the country's next president, is charged with murder and terrorism, but continues to taunt the government.

"Don't you have the guts to arrest me?" he asked on Twitter, adding perhaps the government was awaiting orders from Havana, Cuba.

Diosdado Cabello, the head of Venezuela's National Assembly, said López was trying to escape the country and called him a "coward."

David Smilde, a local sociology professor, says that government repression is playing a big part in stoking the protests.

"The protests really gathered steam once they started to be repressed. Students are protesting because they feel Venezuela's democratic spaces are being reduced," Smilde said. "People feel like if they don't do something now democratic spaces for their voices will only be reduced further in the future."

With no looming election, there is little hope that the protests will topple Maduro from power. The unrest also points toward a split within the opposition as Henrique Capriles, the opposition's leader who lost elections against both Maduro and Hugo Chávez, has distanced himself from the demonstrations.

Opposition supporters see little hope in Capriles after having lost two presidential elections, and support is growing for more hardline members of the opposition.

"López is more radical than Capriles and that's what this country needs right now," said Tulio Manzini, 22, who was one of those gathered in Plaza Altamira.