Venezuelan students fight police, 'Chavistas' rally
| Feb. 15, 2014 |
Caracas, Venezuela

Video and photo published by USA Today
Audio featured on Radio France Internationale
Text published by Reuters




Andrew Cawthorne and Girish Gupta

Venezuelan police fired teargas and turned water cannons on stone-throwing protesters on Saturday to stop them blocking a Caracas highway in a fourth day of sporadic unrest against President Nicolas Maduro's government.

The latest trouble flared as night fell, after thousands of Maduro supporters had earlier flooded the center of the capital to call for peace and make a show of political strength after this week's deadly violence during street protests.

Three people were shot dead on Wednesday in the worst violence since Maduro's disputed election last year.

The 51-year-old successor to Hugo Chavez has faced two weeks of mainly small protests led by students and hardline opposition leaders complaining about Venezuela's rampant crime, shortages of basic products, and alleged repression of political rivals.

"We'll be here day-after-day, night-after-night, until something changes," vowed Javier Sanchez, 20, picking up stones to hurl at police while other students shouted at him "Stop! No violence!" in the upscale Altamira district of Caracas.

After about 2,000 students had gathered peacefully in Altamira Square, debating strategy and chanting slogans in the afternoon sun, a few hundred set off to try and block a major highway. Police halted them before they could get there.

In a repeat of daily confrontations this week, the students threw objects and taunted the police, who responded with volleys of teargas and a water cannon truck, or "whale" as Venezuelans call it.

"People are asleep. It's time for action," said student Michael Paredes, 26, carrying vinegar and putting on a bandana to protect against teargas.

Staking his presidency on maintaining his mentor's socialist legacy, Maduro accuses his rivals of trying to create conditions for a coup like the one 12 years ago that briefly ousted Chavez.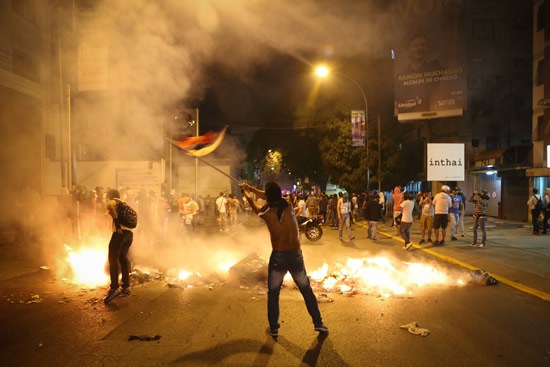 Photo: Girish Gupta

"I'M NOT GIVING UP"

There are, however, no indications the current turmoil could lead to his ouster. The military, whose role swung both Chavez's 36-hour toppling and return, appears solidly behind Maduro.

Addressing his supporters in Caracas from a pastel-colored stage displaying the slogan "People of Peace," Maduro mocked the demands of protesters who want him to step down.

"You want to see people in the streets? We'll give you people in the streets," he said to cheers from thousands of supporters.

"I'm not going to give up one millimeter of the power the Venezuelan people have given me ... nothing will stop me from building this revolution which commandant Chavez left us!"

Maduro said in his speech he had ordered the temporary closure of Metro station and the suspension of bus services in the east of the city, where the protests are centered.

Student leaders are vowing to stay out until Maduro falls, raising the prospect of a protracted crisis. But most rallies are attracting just a few hundred people, and the opposition's political leaders are divided as to whether or not street demonstrations are the way forward.

The protests could, in fact, play into Maduro's hands by helping him unite factions in the ruling Socialist Party and distract people from economic problems like shortages of goods.

He says Venezuela faces an "economic war" waged by the opposition, backed by U.S. financiers and made worse by speculators. Supporters say he is a victim of Western "imperial" propaganda and saboteurs seeking to discredit Chavez's legacy.

"We have to celebrate the revolution, which is love and peace," said Kaina Lovera, 16, wearing a white T-shirt emblazoned with the late Chavez's face.

"FACE OF FASCISM"

Maduro's critics say he is wrecking the economy by sticking with failed Chavez-era policies such as currency and price controls, which many local economists blame for the shortages.

Among those critics is hardline opposition leader Leopoldo Lopez, whom the government calls the "face of fascism" and the intellectual author of the violence.

The 42-year-old U.S.-educated economist says peaceful marches organized by his Popular Will party have been infiltrated by provocateurs and attacked by militant pro-government gangs known locally as "colectivos."

Lopez remains in his home in the Chacao district of eastern Caracas where he was once mayor, colleagues said, despite a judge's arrest warrant. It was not clear why police had not acted on that, though such a move could fuel further protests.

Maduro demanded on Saturday that Lopez surrender himself.

"The opposition organize these violent groups, and then they hide and cry," the president said. "You fugitive from justice, trembling with fear, you fascist coward! Hand yourself in!"

Of 99 people arrested nationwide since Wednesday, most have been released pending trial with 13 still behind bars, Venezuelan judicial authorities say.

While Latin American leftist allies have sent messages of solidarity to Maduro and condemned the "coup" intentions against him, Western nations have called for calm and dialogue.

The United States, whose government has constantly crossed swords with Venezuela's socialist administration since Chavez came to power in 1999, expressed concern over the detentions and arrest warrant for Lopez.

"These actions have a chilling effect on citizens' rights to express their grievances peacefully," Secretary of State John Kerry said in a statement.

"We call on the Venezuelan government to provide the political space necessary for meaningful dialogue with the Venezuelan people and to release detained protesters. We urge all parties to work to restore calm and refrain from violence."

(Additional reporting by Efrain Otero, Diego Ore and Eyanir Chinea, Will Dunham in Washingon; Editing by Bernard Orr; editing by Daniel Wallis, Bernard Orr)