Birthplace of Venezuelan insurrection under siegeGirish Gupta
USA Today
| Mar. 11, 2014 |
San Cristóbal, Venezuela
Jose Perez pours gas onto a pile of trash, debris and tires. Barbed wire pokes out of the barricade that stretches across one of San Cristobal's quiet streets, already scorched after weeks of unrest.

The 37-year-old flicks a lit match onto the pile and jolts back as it quickly ignites, to the cheers of half a dozen gathered friends.

"No one is coming to sort this place out," says Perez, as he throws more fuel onto the burning barricade. "We don't have food. We have to line up for six hours to buy a packet of toilet paper. There's no sugar, milk, flour, rice, nothing. Our government doesn't work."

San Cristóbal, the capital of Tachira state, is a city under siege — by its own residents. The city of about 600,000 people is the birthplace of a protest movement begun a month ago against the socialist government that has spread across Venezuela.

The movement is increasingly being joined by the poor, who have been the staunchest supporters of the "21st century socialism" installed by former anti-American president Hugo Chávez, who died a year ago this month.

His successor, President Nicolás Maduro, has had difficulty putting down the protests and announced he was sending 3,000 paratroopers to San Cristóbal to help the National Guard end an insurrection over rampant crime and a patchwork of failed dictates from Caracas that have devastated the economy.

At least 22 people have been killed in the crackdown and hundreds injured. In the latest violence Monday, student leader Daniel Tinoco was shot in the chest after dark in San Cristóbal following a day of National Guardsmen firing tear gas and plastic bullets at protesters, confirmed the city's Mayor Daniel Ceballos.

Ceballos, a member of a party in opposition to Maduro, said that armed gangs allied with the government known as colectivos were suspected. He says the crackdown will only embolden the movement.

"Without a doubt," Ceballos told USA TODAY. "This is a prelude to what could come at a national level."

Rather than deal with the real problems of Venezuela, Ceballos says Maduro opted for a "military occupation, repression and criminalization of students." Maduro said that it was only a "matter of time" before Ceballos found himself in the "same cold cell" as other opposition figures.

Home to three large universities, San Cristóbal is near the border with Colombia and has been in open defiance of the government since Feb. 3 when an attempted rape of a student here became the final outrage in a country that has among the world's highest murder rates and an inflation rate of 56% over the year that has made goods enormously expensive and the Venezuelan currency a joke.

On this day, protesters, including Leonardo Manrique, 24, are gathered around dozens of makeshift roadblocks. Manrique, a law student, was one of the first arrested when the protests began.

"I never imagined we'd get to this point," Manrique said. "To see all these protests, I'm very proud. I don't want them to lose momentum."

Tear gas, rubber bullets and water cannons are aimed almost nightly against petrol bombs, burning barricades and pelted rocks in clashes. The socialist dream of Chávez, the protesters say, has failed them and his successor Maduro is making things worse.

Barricades prevent the movement of vehicles; nearly all the shops and restaurants are closed for fear of looting while teenagers strut around the city with slingshots and petrol bombs.

A World War II-era Greyhound armored vehicle — once a monument here — has been dragged onto the city's Avenida Carabobo, a main thoroughfare, and now lies burned out surrounded by smoldering trash and barbed wire.

While they have no concrete strategy of achieving their aim of enacting some change, the protesters, especially here in San Cristóbal, do not look to be tiring.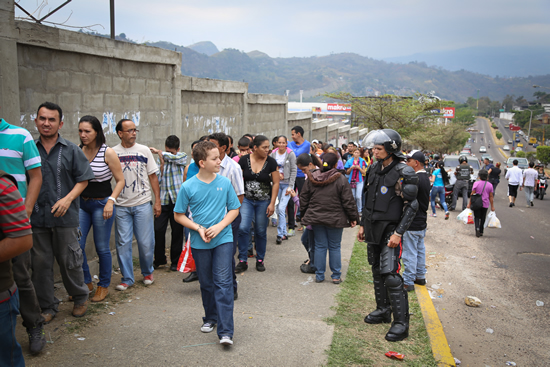 Photo: Girish Gupta


Jimmy Vargas, 34, of San Cristóbal was one of those killed in the violence. He died last week after being hit by a tear gas canister and falling from a balcony, according to his family and other witnesses.

His funeral took place the following day, the coffin paraded through the streets while men with shovels cleared a path through barricades and trash along the way.

"We all feel a terrible pain for the death of my brother," said the victim's sister Jindry Vargas, 32. "But every day it gives me the force to continue fighting for the Venezuela we need, a democratic Venezuela."

The nationwide student protests have strengthened the often fractured opposition to the Chavistas. Former mayor Leopoldo Lopez, a graduate of Harvard University, was arrested in the capital of Caracas on Feb.12 on charges of "terrorism" and "murder" for leading protests and has yet to be released.

Maduro, a former bus driver who was an early backer of Chavez's attempts to overthrow the government, has called protesters "Nazi fascists" and accuses them of plotting a coup to oust him.

Maduro has held peace talks with religious and business groups, and some members of the opposition, but two-time presidential candidate and opposition leader Henrique Capriles has refused to attend for what he calls a "photo opportunity."

Though only around 400 miles from Caracas, the area of Tachira has long been a hotbed of opposition support in large part because of its much closer ties to neighboring Colombia. Maduro suggested that the city was under siege by right-wing paramilitaries who were receiving orders from former Colombian president Alvaro Uribe, a longtime foe of the socialist government here.

"There's a rebellious way of thinking here, opposed to everything that happens in Caracas," said local historian Luis Hernández Contreras. Táchira was only one of two states in Venezuela won by Capriles in his October 2012 election against Chávez.

The economic problems that plague Venezuela have hit this border city hardest, as Colombians jump across and buy up price-controlled goods that are already in short supply, to sell for profit back home.

Of the city's shops that are open, all have long lines outside. The longest are at the supermarkets. One, on the outskirts of the city, had more than 1,000 people lining up outside. Many of them were after basics such as flour and rice.

"I'm losing a day of my life but I need to feed my kids," said Andres Gonzalez, 42, a school caretaker, who had already waited seven hours before nearing the front of the line.

On his hand was written in bold, black marker pen his number in line. It, like those around him, had four digits.

The state's governor, Jose Vielma Mora — who in 1992 joined Chávez in his coup attempt that launched his political career — has spoken out against Maduro's handling of the crisis.

"I'm against dealing with the protests with violence," said the governor, adding that he was against repression, while speaking to a local radio station. "No one here is authorized to use violence."

Back at the burned out armored vehicle, a landmark known as "the tank" to those here, Andryth Nino, 19, stands beside a meeting of students.

"We'll stay here until we enact change. Ukraine achieved it and this government is much weaker," she said, referring to the recent ousting of president Viktor Yanukovych there. "We'll achieve it too."