MPs call for measures to cap rise in population
| Jan. 6, 2010 |
Published by Reuters, Yahoo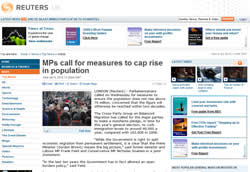 Photo: Girish Gupta

LONDON (Reuters) - Parliamentarians called on Wednesday for measures to ensure the population does not rise above 70 million, concerned that the figure will otherwise be reached within two decades.



The Cross-Party Group on Balanced Migration has called for the major parties to make a manifesto pledge, in time for this year's general election, to curb immigration levels to around 40,000 a year, compared with 163,000 in 2008.



"While the Government is right to split economic migration from permanent settlement, it is clear that the Prime Minister (Gordon Brown) misses the big picture," said former minister and Labour MP Frank Field and Conservative MP Nicholas Soames in a joint statement.



"In the last ten years the Government has in fact allowed an open borders policy," said Field.



"Voters have not been consulted whether they want that as a policy and as an objective," he added.



"The campaign is seeking a change in the law so that people could come here to work for four years only, but to break the link between coming here to work and then having the automatic right to become citizens, as they have in the past."



Immigration has risen up the political agenda ahead of an election due by June. The anti-immigration British National Party won two seats in European elections last year, posing a dilemma for the main parties over how to respond.



Field and Soames are co-chairmen of the Cross Party Group on Balanced Migration.



The group's report, "70 million is too many," was signed by former Archbishop of Canterbury Lord Carey, former House of Commons speaker Baroness Boothroyd as well as five Labour MPs, and 10 Conservative MPs.



The Office for National Statistics said last year it expects the population to hit 71.6 million in 2033, an increase of more than 10 million. Of this rise, 45 per cent is due to "projected net migration."