Reaction to call for Labour leadership ballot
| Jan. 6, 2010 |
Published by Reuters


David Milliken, Avril Ormsby, Tim Castle and Girish Gupta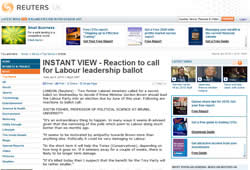 Photo: Girish Gupta


LONDON (Reuters) - Two former cabinet ministers called for a secret ballot on Wednesday to decide if Prime Minister Gordon Brown should lead the Labour Party into an election due by June of this year. Following are reactions to ballot call:



JUSTIN FISHER, PROFESSOR OF POLITICAL SCIENCE AT BRUNEL UNIVERSITY



"It's an extraordinary thing to happen. In many ways it seems ill-advised given that the narrowing of the polls which point to Labour doing much better than six months ago.



"It seems to be motivated by antipathy towards Brown more than anything else. Politically it could be very damaging to Labour.



"In the short term it will help the Tories (Conservatives), depending on how long it goes on. If it simmers away for a couple of weeks, there is likely to be longer term damage.



"If it's killed today then I suspect that the benefit for the Tory Party will be rather smaller."



IVOR GABER, PROFESSOR OF POLITICAL JOURNALISM, CITY UNIVERSITY, LONDON



"This isn't in the rules of the Labour Party and if they went ahead with it, it would be a huge gamble. Would the fact of a new leader outweigh the divisions?



"But if you are looking for gamblers the parliamentary Labour Party in the last few years has not shown itself to be up amongst that. They have been cautious, they had many opportunities to do this, they have pulled back.



"Even if it went ahead I don't think it would succeed, and I think it's a damp squib in the sense that Hoon and Hewitt have been very much with the Blairites and of another generation, the wrong generation.



"It is a very unhelpful move for the Labour Party, but I don't think it will come to anything."



ROBERT WORCESTER, FOUNDER OF POLLING GROUP MORI



"They have dumped a large boulder into the pond three months before the general election and they call themselves loyalists. I think the timing is atrocious.



"It is just going to be a wrangle because it is against the rules.



"There is no precedent for it and no legitimacy for it to happen and from what I have seen in the polls, changing the leader is not going to make much difference."



ALAN CLARKE, UK ECONOMIST, BNP PARIBAS



"I think the rationale is Brown gets kicked out, replaced by Johnson (Home Secretary Alan Johnson), who gets a honeymoon period with the return of some disillusioned traditional Labour voters.



"In turn that makes a hung parliament more likely—bad news for fixing the public finances, higher risk of downgrade, cashflows out of the UK.



"I don't know how likely all that is to happen, no smoke without fire and all that, but the uncertainty can't be good for sterling or gilts."



JONATHAN TONGE, HEAD OF POLITICS, LIVERPOOL UNIVERSITY



"If there was a person willing to challenge Gordon Brown within the Cabinet the move would make sense, but the fact is we have been here before in terms of other members of the Cabinet ducking leadership challenges.



"Undoubtedly there is disquiet with Gordon Brown, there are very few people in the Labour Party who think he is capable of leading them to electoral victory.



"But to be quite blunt, the Cabinet had their chance quite recently when James Purnell resigned, Caroline Flint resigned. That was the moment the dagger needed to be plunged into Gordon Brown's back. That moment has passed.



"Now, in an election year itself, to call for a secret ballot of the parliamentary party, looks hugely self-indulgent by two ministers who are on the downslope themselves...and I think that is the way the parliamentary party frankly will view this."



ANDREW HAWKINS, CHIEF EXECUTIVE OFFICER, COMRES



"The polling that we've done over the last couple of years shows that the problem is Brown more than it is the Labour Party, and that anyone who replaces him would create a close-called contest.



"Even though Gordon Brown was unpopular on many measures prior to taking office in 2007, he enjoyed quite a long honeymoon and that's why I think almost anyone coming in presenting a fresh face party, even if it were a facade of renewal, it would be enough to deny the Tories a majority.



"This is the very, very last chance to act on changing the Labour leader. The timing is surprising in that it didn't happen sooner. Clearly everyone was waiting for somebody else to pull the trigger."



MARTIN BOON, POLLSTER, ICM



"It is probably too late for a leadership change in the few months before a general election. The public will see right through that.



"It is never good for a political party to be seen infighting. A unified party is one that people have trust in voting for.



"A disunited party is one that they generally have contempt for. This doesn't look like good news for Gordon Brown."



PHILIP SHAW, UK ECONOMIST, INVESTEC



"I am a little bit surprised that it has come round again. It provides a bit more residual political uncertainty, but whether the rebels get any further than the plot to unseat Brown did last spring is very unclear.



"The procedure to unseat a Labour leader is much more complicated than just a vote of MPs—it involves party members and trade unions. There may well be a secret ballot, and if it goes against Brown, what happens then? Does Labour have to hold a special conference?



"I guess this might be a feature depressing sterling in the short term, but unless the plot really gains traction, my guess is it will be a relatively short-term phenomenon in currency markets. That said, the fear of a hung parliament will hang around much longer, depending on how opinion polls develop."



WYN GRANT, POLITICS PROFESSOR, WARWICK UNIVERSITY



"I don't think there is any constitutional provision for a ballot of that kind. There are certain procedures that have to be followed in the Labour Party if you are going to have a leadership election. And you can't do it right now in that way.



"I don't think Labour MPs are going to be particularly enthusiastic to have a leadership contest in the run-up to a general election because even if Brown was defeated in a secret ballot...you have then got to have a contest to find a successor, and in that period the party is in complete disarray to the advantage of its opponents.



"If there had been a very clear alternative successor to Brown, who was charismatic and appealing to the electorate, then I think the situation would be very different."



JONATHAN LOYNES, UK ECONOMIST, CAPITAL ECONOMICS



"I don't think it means anything for the economy, as there is an election coming that is likely to produce a change of government, it would seem.



"In terms of their policies on the economy, I don't think the two main parties are that far apart, and I don't think a change in leader for the Labour Party would make any real impact on that.



"The impact on the markets is probably rather greater. There is some investor nervousness on sterling assets because of the fiscal position and the extent to which it will be tackled after the election.



"I would have thought the knee-jerk reaction to this would probably be negative, as there is already uncertainty about the possibility of a hung parliament and the impact that would have on the timing of fiscal consolidation.



"I would have thought this news would be viewed as another piece of uncertainty, rather than making a decisive election result more likely."